Sri Lanka president hails his country's 'generosity'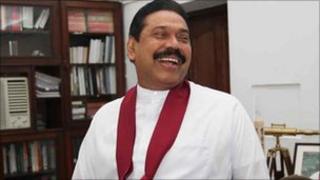 The Sri Lankan president has hailed the results of the World Giving Index.
The survey shows the country's people are the eighth most generous in the world in providing charity donations.
President Mahinda Rajapaksa said last week's analysis by the British-based Charities Aid Foundation showed that Sri Lanka was a very caring society.
He said the survey was an honour for every citizen of the country, gave him hope for future peace and security and showed that Sri Lankans were caring.
Sri Lanka's people emerged as remarkably generous in this survey, conducted by the polling organisation Gallup.
President Rajapaksa said it captured "the reality of our caring and sharing society".
He said the survey gave him encouragement that a future of peace and harmony could be built through Sri Lankans' help for each other.
In the last stages of the war and its aftermath last year there were many instances of people in the unaffected parts of the country sending or bringing food and other aid to the displaced people in the north.
'Time generous'
The report by the Charities Aid Foundation report measured not just the percentage of the population who gave money to organisations, but also how many of them volunteered their time and how many helped a stranger.
On a combination of all three indices Sri Lanka came in eighth place worldwide - equal with Britain - making it the highest-placed developing country.
Sri Lankans came second overall in giving their time.
Foundation head John Low said that the level of giving in a country said something about the strength of civil society.
The report said giving time and money to an organisation could include political organisations as well as places of worship and conventional charities.
Overall the survey suggested that giving was linked to a sense of well-being.
Here, sadly, Sri Lanka was not typical: it has an especially high suicide rate.
Another report suggests that this continues to be the case, with about 12 Sri Lankans taking their own lives each day.