India border troops 'tortured' Maoist suspects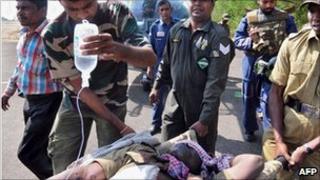 Claims that Indian paramilitary forces tortured villagers while pursuing Maoist rebels in the central state of Chhattisgarh are under investigation.
Troops from the Border Security Force (BSF) allegedly beat and gave electric shocks to tribal people, including women, during interrogation.
BSF director general Raman Srivastava said an internal inquiry was underway.
A large number of Indian police and paramilitary are based in Chhattisgarh, a stronghold of Maoist insurgents.
The allegations against the troops have been made by residents of Pachangi and Aloor villages in Kanker district.
The rebels, who say they are fighting for the rights of the rural poor, have carried out a spate of deadly attacks in recent months.
In April, 76 members of the paramilitary Central Reserve Police Force were killed in Chhattisgarh state's Dantewada district.
Prime Minister Manmohan Singh has described the insurgency as India's biggest internal security challenge.
Meanwhile, the rebels blew up rail tracks and killed eight people in three Indian states, after calling a 48-hour strike.
The walkout is to protest against what the Maoists call the "cold-blooded" killing of their top leader, Cherikuri Rajkumar, alias Azad.
Authorities said Azad was killed in a clash on 2 July.
The industrial action has affected parts of the states of Jharkhand, Chhattisgarh, West Bengal, Orissa, Bihar and Maharashtra.
Early on Monday, the rebels shot dead five male members of a family after dragging them from a house in Dompara village, West Bengal, police said.
They were apparently targeted for supporting the state's governing Communists.
Also on Monday, the Maoists shot dead two officers at a police station in Dantewada district, police said.
The Maoists also blew up a stretch of railway track near the Karmavad station in Giridih district of Jharkhand.