India college urged to review professor sacking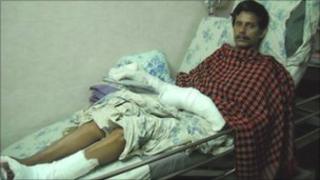 An Indian university has appealed to an affiliate college to reconsider its decision to sack an academic whose hands were cut off in a brutal attack.
The Mahatma Gandhi University in the Southern Indian state of Kerala says that it is "gravely concerned" about the decision by Newman College.
Prof T J Joseph was dismissed for preparing an exam question paper which allegedly defamed Islam.
In July he was attacked by suspected Islamic extremists.
Police believe they were angered by the exam question paper he set. The professor had both hands cut off.
"In addition to the pressure from the pressure from the university, there is a countrywide pressure which I hope will change the management's stand," Mahatma Gandhi University (MGU) Vice-Chancellor Rajan Gurukkal told the BBC.
"If this decision is contested in a tribunal or in courts, university documents showing a violation of the rules will go a long way in favour of the dismissed professor."
Staff at Newman College - one of several colleges in Kerala affiliated to MGU - say the the university has not formally disapproved of the decision to sack Prof Joseph, but only raised questions about "procedural lapses".
Newman College is a government-aided Christian institution. The constitution of India guarantees a certain degree of autonomy to minority-run institutions over the appointment of staff.
Students at Newman have boycotted classes for two days in support of the professor, who is still receiving medical treatment.
Prof Joseph told the BBC Tamil service that he finds the dismissal shocking.
"I am punished for a mistake which I have not committed. They have even denied me my pension. I am still bedridden. I am not able to move."
Prof Joseph was attacked by eight people as he was returning home from church with his mother and his sister, who is a nun.
Shortly before the attack, he had set an exam question which allegedly contained a derogatory reference to the Prophet Muhammad, an accusation strongly denied by his family.
Two activists of the predominantly Muslim Popular Front of India (PFI) were arrested in connection with the attack.