Sri Lankan 'rope minister' is reappointed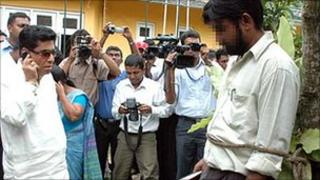 Sri Lankan President Mahinda Rajapaksa has reappointed a minister who tied a government official to a tree last month in the capital, Colombo.
The move follows a recent ruling made by a committee of the president's Sri Lanka Freedom Party that Mervyn Silva was not guilty of any offence.
Mr Silva said that he tied up the local party cadre because he had not attended dengue fever workshops.
Mr Silva has been reappointed as deputy highways minister.
He has a reputation for being a staunch Sinhalese nationalist.
'Controversial'
Officials say that even before his sacking, the deputy highways minister was "involved in a number of controversial incidents" and had "failed to discipline himself despite multiple warnings".
The BBC's Charles Haviland in Colombo says that Mr Silva's supporters formed the core of pro-government rallies on Wednesday in Colombo in support of a move in parliament to extend President Rakjapaksa's powers.
Newspaper editorials say they were bussed in to the city from the countryside without knowing what they were coming for.
Mr Silva told the BBC in August that he tied the official up to warn him of the seriousness of not tackling dengue fever.
"I did not do it to demean the public services or humiliate him," he said.
Dengue fever is a mosquito-borne disease that causes severe head, muscle and joint pains.
Mr Silva was initially appointed deputy media minister by President Rajapaksa, but later resigned and was reappointed as deputy highways minister.
The Paris-based Reporters Without Borders (RSF) group has described his ministerial appointments as akin to employing "an arsonist to put out fires".