Mullah Omar says Afghan Taliban close to victory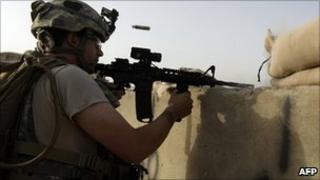 Taliban leader Mullah Omar says his fighters are winning the war in Afghanistan and that the Nato-led campaign has been "a complete failure".
In a rare and unusually detailed statement published in four languages, the elusive leader repeated his call for foreign forces to leave.
Nato has boosted its presence in Afghanistan to 150,000 soldiers in a bid to finally defeat militants.
However, the US has set July 2011 to begin withdrawal, if conditions allow.
Critics of the move say it has emboldened the Taliban.
Mullah Omar's statement, which marked the end of the Muslim festival of Ramadan, was emailed to media outlets as well as being posted on jihadist websites.
Unlike previous messages, it was published in four languages - English, Pashto, Dari and Urdu.
"The victory of our Islamic nation over the invading infidels is now imminent and the driving force behind this is the belief in the help of Allah and unity among ourselves," he said.
"In the time to come, we will try to establish an Islamic, independent, perfect and strong system."
He claimed that those behind the 2001 invasion of Afghanistan which overthrew the Taliban "admit themselves that all their strategies are nothing but a complete failure".
Mullah Omar called on US President Barack Obama to withdraw his troops "unconditionally and as soon as possible". He also commanded his fighters to observe the Taliban's code of conduct and avoid harming civilians.
Thousands of Afghans have been killed during the insurgency against US-led forces - some at the hands of Nato-led forces, but most of them in militant bombings and other attacks.
The BBC's Dawood Azami in Kabul says the message is an attempt to reach out to the public in the battle for "hearts and minds" in Afghanistan.
The fact that it was released in four languages suggests it was an attempt to reach not only Afghans but regional and international audiences too, our correspondent says.
Spiritual head
Mullah Omar is still considered the spiritual head of the Taliban in Afghanistan, although others are believed to be in day-to-day command of the hardline movement.
He has not been seen in public for years and is believed by many to be hiding in Pakistan, despite denials by Islamabad.
Since being driven from power, Mullah Omar has demanded that foreign forces withdraw from Afghanistan. Correspondents say his last message was on Eid last year when he urged Taliban members to continue the fight against foreign military forces in the country.
President Obama ordered a further 30,000 US troops to Afghanistan last December following a review of the war.
Gen David Petraeus, who commands US and Nato forces in Afghanistan, said last month he saw "areas of progress" in the war and that momentum by the militants had been checked in their strongholds of Kandahar and Helmand.
He has made winning civilian support a key part of his strategy to defeat the Taliban.
However, Afghan President Hamid Karzai has said that civilian casualties during Nato operations were undermining the counter-insurgency in his country.
He also said that US plans to begin withdrawing troops next year have given the Taliban "a morale boost".