Tough life for Delhi Commonwealth Games' workers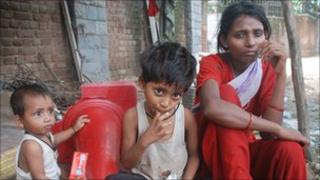 Next month's Commonwealth Games in India are a big test of Delhi's ability to prove itself on the world stage - a test that some would argue it is already failing.
This is not just because of the many missed deadlines, leaky buildings and alleged corruption, but because of the plight of the thousands of construction workers.
They are working frantically to complete projects that are meant to create what the state of Delhi's chief minister Sheila Dixit calls a "world class" city before the games begin.
Squalid conditions
But many of the recruits do not appear to be paid properly nor are they housed in adequate accommodation.
Afsana, a young woman in her early 20s, is one of many thousands of construction workers deployed on the "beautification" projects.
When I asked her how she felt about working for the Games, she answered: "What Commonwealth Games? I know nothing about it. I have come from far away in Bihar with my three children and husband, to work."
"I am making these pavements," she said. "I have been living on the street in this makeshift tent for 10 months now."
Thousands of these workers, mainly unskilled, are living in similar tents, made out of plastic sheets.
Inside, there is barely enough space for a single cot, let alone a family.
They have no windows, no solid walls and no proper roof. There is no decent sanitation or toilets.
The older children play on the roads while their parents work. The smaller ones lie dangerously close to heaps of construction materials or heavy building equipment.
Violations 'widespread'
In modern India, there is no shortage of human labour.
Because of the way contracts have been awarded and then subcontracted, it is difficult to know the exact number of workers employed on the various Commonwealth Games projects, but civil rights groups put it at around 40,000.
There have been repeated allegations that workers are not being paid properly and that they are living in unacceptable conditions, even though the ultimate employer is the state of Delhi.
There have also been tragic consequences. The government says that at least 45 workers have died in accidents during the works. Human rights organisations believe the figure is much higher.
Maushmi Basu is a campaigner for workers' rights with the People's Union for Democratic Rights, which filed a successful legal complaint over the issue.
A High Court committee found that labour law violations on Commonwealth Games construction sites were widespread.
"With barely a month to go before the Games, conditions for the workers remain unchanged," Ms Basu said. "It seems neither the state's labour department nor the state government is interested in taking up the workers' issues."
Alongside those living on the streets, many more workers live inside the stadium complexes in what are referred to by campaigners as labour camps.
Getting access to these camps is difficult for a journalist but Ms Basu has been issued with a court order allowing her to inspect them. I managed to accompany her to the Polo Grounds, where the rugby teams will practise.
Despite objections by security guards, I spoke to several workers.
Sickening
Akmal's comments were typical: "I hate the living conditions in this place. It stinks. There are so many mosquitoes. I am running a fever," he said.
"The toilets are in such a bad state that you can't breathe. I wish I could go back home."
He looked disgusted as he spoke to me.
I stood there looking across a vast stretch of water-logged marshland.
There were big pits full of rubbish and the air was thick with their dreadful stench.
On one side was a row of tin sheds. I peeped inside to see a tiny living space shared by at least four workers. I could not see any ventilation or windows.
It was extremely humid and stifling. There was no fan, just a small electric bulb. I could barely breathe.
I was told that around 1,500 workers lived in this camp. There were 15 toilets, so small you could not help brushing against the wall. The smell was sickening.
Delhi's Chief Minister Sheila Dixit says that, as far as she is aware, "there are no violations of workers rights".
"In case there is a contractor who is not paying the right wage please contact the labour commissioner," she says.
"Let him know and we will take action. For people to just say rights are being violated without giving any evidence, how do you expect us to act? I can only act if I know."
But Afsana and Akmal are not even aware what their rights are. Amid all the media reports of corruption and missed deadlines, the only hope for workers like Afsana and Akmal is that their conditions will get some attention, too.
You can hear Rupa Jha's Crossing Continents on BBC Radio 4 on Thursday 9 September at 1100 BST or on Monday 13 September at 2030 BST. You can also listen on the iPlayer or subscribe to the podcast.