UN in fresh appeal for Pakistan flood victims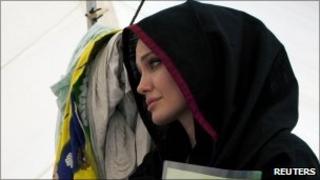 The UN has made a fresh appeal for Pakistan's flood victims as film star Angelina Jolie has arrived in the country to highlight their plight.
The UN High Commission for Refugees says that it needs $120m (£78m) for tents and other supplies.
A UN official told the AFP news agency that so far it has received about two-thirds of $459m (£298m) originally asked for in August.
He said that a second appeal would be launched on 17 September.
UN Assistant Secretary General Ajay Chhibber said that helping Pakistanis to rebuild their homes and businesses was of paramount importance for the country's long-term regional and global stability.
"Now that the water has receded in large parts... what's clear from these visits is that the early recovery needs to start now," Mr Chhibber told AFP during a visit to the militant-hit northwest.
"If there's greater unrest in Pakistan it will have much greater regional and global implications."
The UN has warned that the slow pace of pledges could impede relief operations. It says that the country faces a triple threat to food supplies - with seeds, crops and incomes hit.
Handouts to survive
In the south of Pakistan, areas are being newly-flooded even as the long process of reconstruction begins in the north.
Correspondents say that half of the rural population of Sindh province has been affected by the flooding - where the water has been slower to drain because the terrain is flatter.
Officials say that eight million people remain reliant on aid handouts to survive, six weeks after monsoon rains caused the flooding.
Advancing floodwaters continue to threaten the towns of Johi and Dadu in Sindh province, officials say, with 19 of its 23 districts under water and 2.8 million people displaced.
"Armed forces and irrigation officials are racing against time to save Johi and Dadu," provincial Irrigation Minister Jam Saifullah Dharejo told AFP.
"Floodwaters are increasing pressure on Johi embankment, while the raging waters are just 5km (three miles) away from Dadu city."
He said residents had formed a human chain to help reinforce embankments securing the towns in what was a "very heartening and courageous" initiative.
Ms Jolie says that the situation also remained desperate in the north-west.
"From what I understand the situation is on a scale that we have not really seen the likes of. It's on a huge scale," she told reporters at a camp for the displaced.
"It is extraordinarily complex situation, it's not just the floods," she said, referring to the 1.7 million Afghan refugees living in temporary camps in the north-west.
Wearing a red-lined black cloak, the actor said she was upset to see the people's plight and called for donations through various channels, including the UN's official appeal.
She is travelling as a goodwill ambassador for the United Nations refugee agency, the UNHCR, and was making her fourth visit to Pakistan since being appointed in 2001.
Last week Ms Jolie released a video appealing for more donations on behalf of nearly 21 million people who have been affected by the disaster.
The 34-year-old visited affected communities where millions of long-term Afghan refugees reside.
She has personally donated $100,000 to the flood appeal.
The UNHCR is providing relief aid including shelter materials to those displaced by the disaster, which officially has killed 1,760 people.
If you would like to make a donation to help people affected by the floods in Pakistan, you can do so through the UK's Disasters Emergency Committee at www.dec.org.uk or by telephone on 0370 60 60 900.