Indian trade unions strike against price rises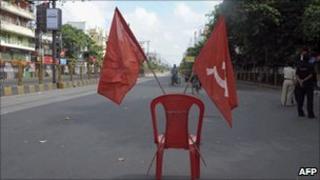 A 24-hour nationwide strike called by trade unions has caused major disruption in parts of India.
The walkout was felt mostly in Tripura, Kerala and West Bengal states where the ruling Communists backed the action.
Called to protest against price rises and alleged labour law violations, the action caused major disruption to air and road transport in those states.
The coal, power, telecom, banking, insurance, defence, port, petroleum and construction sectors joined the strike.
Industry virtually ground to a halt in much of West Bengal and Kerala.
Disruption
Communist Party of India [CPI] MP and trade union leader Gurudas Dasgupta told the Press Trust of India news agency that many private sector employees had also participated in the walkout.
"Trade unions cannot be marginalised," he said. "They must be heard. We want social justice, a reasonable share of the wealth that workers produce."
Officials said nearly 80 flights to and from Kolkata (Calcutta), the capital of West Bengal state, were cancelled.
Train services were also affected.
Markets, shops, schools and colleges, universities and technical institutes were all shut.
Even federal government offices like those of the Indian Post were closed.
The train unions say the rise in prices of essential commodities like grains, fruit, vegetables and milk must be curbed by the authorities.
They are also calling for employment protection in recession-hit sectors, strict enforcement of all basic labour laws and creation of a social security fund for workers in the unorganised sectors.
This is the second strike since the government raised fuel prices in June in an attempt to cut the budget deficit.
In July, opposition parties called a strike which affected life in most parts of India.