Mumbai tiffin carriers become multi-skilled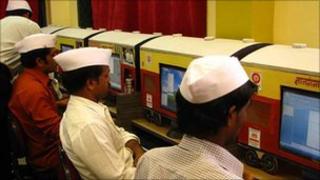 Mumbai's famous tiffin carriers - popularly known as dabbawallahs - are learning English and basic computing to improve their business prospects.
Dabbawallahs collect lunch boxes from the suburban homes of nearly 200,000 customers and deliver them to offices and factories at lunchtime.
Mumbai has about 5,000 tiffin carriers who deliver about 175,000 lunch boxes daily in a century-old tradition.
Tiffin is an old English word meaning midday snack.
A unique tracking system ensures that all the lunch boxes reach their rightful owners in time, recently earning a rating of 99.99% for precision and accuracy from Forbes magazine.
The tiffin carriers have received international recognition for their supply chain management and even attended Prince Charles' wedding in 2005.
'Save time'
The course, designed by Yashwantrao Chavan Open University in Maharashtra, comprises Sunday classes and easy reading material for nearly 5,000 dabbawallahs.
Raghunath Medge, president of the dabbawallahs' association - and one of the few course graduates - says that most dabbawallahs only have a few years of education.
"Even those who have studied further have done so in Marathi language. It will not only help us but also our children who will be encouraged to pursue higher studies," he said.
Gangaram Talekar, one of the most senior dabbawallahs, says the new course is to be welcomed because technological changes are tough to keep up with.
"Many customers send their addresses on text messages. If we cannot read and understand their message we have to go around asking people. Learning English and computers will save us time."
At a small but compact class in a northern suburb of Mumbai (Bombay) about 20 of the 5,000 dabbawallahs have gathered for the first class.
The room has several placards of basic greetings in English, all spelt phonetically alongside translations in Marathi.
"Good morning! Namaskar (hello)!" starts Pawan Agrawal, who has done his doctorate on the tiffin supply system and is conducting the classes.
The mostly middle-aged students echo him enthusiastically as they glance through their reading material.
The class continues for about an hour with students repeating and learning greetings in English.
"They have busy schedules through the week. It is important to sustain their interest in course. We will also start classes at other venues so that it is convenient for them to travel," Mr Agrawal said.
Mr Medge says that the course will enable dabbawallahs to participate in international seminars and lectures.
"We get lots of invites, but up until now someone else has had to go," he said.
"Also we want to know what is being said or written on websites about us. Many websites have much information about about us - but have no real contribution from us!"
A community which has been ahead of its time for decades seems determined not to get left behind in one of the most competitive, fast-paced and ever-changing cities in the world.