Bangladesh anthrax cases spread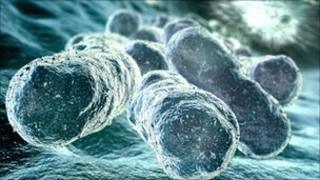 Bangladesh has put health officials on high alert after the number of people infected by anthrax in the north of country rose to more than 300.
About 150 cattle have so far been killed by the disease that can be transferred to humans who handle or eat infected animals.
The current outbreak is the biggest in the country's history, an official said.
The government has ordered that all sick cows must be culled immediately.
Since 18 August 327 people have been infected with anthrax, the health ministry said on Sunday.
So far anthrax infections have been confirmed in five districts.
However, officials fear that the disease might already have spread to two more districts.
"We have issued a red alert and asked livestock officials, civil surgeons and health workers to fan out to detect sick cows and cull them immediately," the Minister for Fisheries and Livestock, Abdul Latif Biswas, said.
Around 500,000 ampoules of cattle vaccine were distributed in the affected areas, the minister added.
Often deadly, anthrax exists naturally in the soil and commonly infects livestock, especially during or after the monsoon when water brings it up to the surface.
Officials say all the cases in Bangladesh are cutaneous, or skin anthrax, which causes wound-like lesions.
"This type of anthrax is not that much dangerous to humans because there's treatment available," Mahmudur Rahman, director of Bangladesh's Institute of Epidemiology, Disease Control and Research, told the BBC.