Kabul Bank withdrawals continue despite reassurances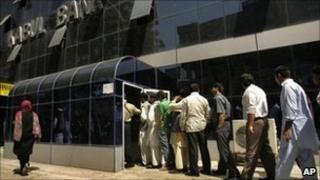 Afghans have continued to withdraw money from the country's largest bank, Kabul Bank, over fears it may collapse.
Government and bank officials have given repeated assurances that the bank will not fail.
The run on the bank began earlier this week after allegations of corruption and mismanagement among executives.
The government says it has transferred $100m (£65m) to the bank to cover salaries for soldiers, police and teachers who are paid through the bank.
Branches of the bank across the country were crowded on Saturday as people concerned about their savings queued to withdraw money.
"For the time being I want to withdraw my money and then I will wait to see what will happen next," said Mohammad Habib Angar in Kabul.
"If the bank is able to create confidence, for sure I will put my money back in Kabul Bank because I do not want to close my account."
Some officials have suggested the long lines at the bank's branches were attributable to customers withdrawing cash for Eid ul-Fitr, the upcoming Muslim holiday marking the end of Ramadan.
Dubai property
Finance Minister Hazrat Omar Zakhailwal sought to reassure customers, saying the bank had the government's full backing.
On Saturday he said money was being delivered to branches across the country to pay the salaries of the tens of thousands of government workers, including soldiers and police, who hold accounts with Kabul Bank.
The scale of Saturday's withdrawals has not been announced and the the size of the bank's debts remains unclear.
The New York Times and the Wall Street Journal reported on Wednesday that Kabul Bank's losses could exceed $300m (£194m) - and that the figure is more than the bank's assets.
The newspapers reported that two senior executives - chairman Sherkhan Farnood and chief executive Khalilullah Ferozi - had been replaced and Mr Farnood ordered to surrender $160m worth of property purchased in Dubai.
The governor of the Central Bank, Abdul Qadir Fitrat, said that the two executives had voluntarily resigned because, under new reforms, only banking professionals can hold the top operating positions at banks.
The two each own 28% of the bank's shares, making them the largest shareholders.