Anthrax outbreak hits Bangladesh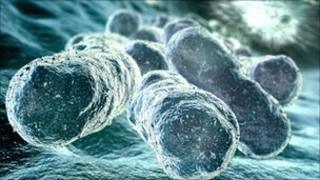 Officials in northern Bangladesh are battling to contain an anthrax outbreak that has infected more than 250 people.
It is thought to have been caused by people slaughtering anthrax-infected cattle and selling or eating the contaminated meat.
The outbreak was first detected in the district of Sirajganj in late August. It has now spread to four out of the country's 64 districts.
Some north-western areas have repeated anthrax outbreaks.
But for the first time, it has been detected in the district of Kushtia.
Often deadly, anthrax exists naturally in the soil and commonly infects livestock, especially during or after the monsoon when water brings it up to the surface.
Officials say all the cases in Bangladesh are cutaneous, or skin anthrax, which causes wound-like lesions.
"This type of anthrax is not that much dangerous to humans because there's treatment available," Mahmudur Rahman, director of Bangladesh's Institute of Epidemiology, Disease Control and Research, told the BBC.
"There's no man-to-man transmission of this anthrax."
The latest outbreak has already caused concern in the capital, Dhaka, where sales of beef and mutton have slumped.
A meat seller in central Dhaka said: "I used to sell about 200kg of beef every day, but now I am selling only 20-25kg. People are scared to buy beef because of anthrax."
The government has already launched a vaccination drive for cattle, so that the disease does not spread.