India Maoists kill police hostage in Bihar state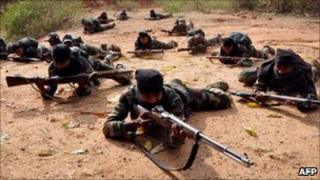 Maoist rebels in the Indian state of Bihar have killed one of four policemen they had been holding hostage.
The body of sub-inspector Lucas Tete has been recovered and identified. The fate of the other policemen is unknown.
The rebels had told the state authorities they would start killing the policemen from Thursday unless eight Maoist prisoners were released.
The rebels took the policemen hostage on Monday after a gunfight in which seven other policemen were killed.
Indian security forces have been battling Maoists in several states.
More than 200 security personnel have been killed in the first six months of this year.
Scores of rebels battled with the police, who were on patrol in forests in Bihar's Lakhisarai district, about 150km (95 miles) from the state capital, Patna, late on Sunday.
The body of sub-inspector Tete was recovered in Lakhisarai on Friday morning.
"I presume that the remaining three policemen are safe and sound. We cannot jump to conclusions," senior police official PK Thakur said.
The rebels say they are fighting for the rights of the poor and the landless.
Last year, the Indian government launched a major offensive against the Maoists in several states. The insurgency is seen as the country's biggest internal security challenge.