Nepal plane crash data recorders found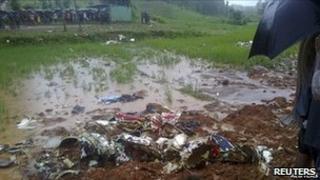 Investigators have found the flight data recorders from the wreckage of a plane which crashed in Nepal last week, killing 14 people, officials said.
The small passenger plane, en route to the Mount Everest area, crashed into hills outside the capital, Kathmandu, in heavy rain.
The Agni Air plane went down near Shikharpur village, 80km (50 miles) south of Kathmandu.
The plane had been on its way to Lukla, a popular trekking destination.
But it had turned back because of bad weather.
Three crew and six Nepalese passengers died along with four Americans, a Briton and a Japanese national.
'Damaged'
Searchers have found both the devices and have flown them back to Kathmandu, news agency Associated Press quoted Suresh Acharya, a spokesman for the government-appointed investigation team, as saying.
He said the flight data recorder was damaged in the crash but the memory plate inside it appeared to be fine. The voice recorder was in good condition.
Mr Acharya said the devices would be sent abroad for analysis.
Each year thousands of tourists fly to Lukla to begin the trek to Everest base camp.
But the airport is considered to have one of the most difficult landing strips in the world, and unpredictable mountain weather often adds to the danger.
The 550m-long (1,800ft) sloping airstrip at Lukla is perched on a hillside some 2,800m above sea level, with a steep 700m drop at one end.
The area has experienced crashes before; 18 people, including 12 Germans, were killed when a small plane crashed in 2008 in Lukla.