Pakistan police 'did nothing' as teenagers were lynched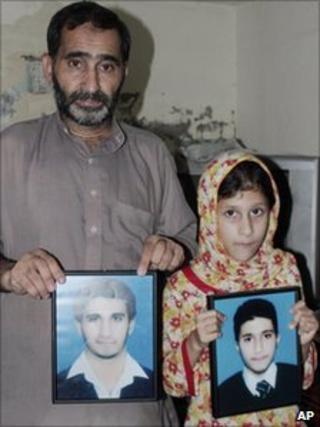 Five policemen, including a police chief, have been remanded in jail on charges they failed to stop a lynching of two teenage brothers last month.
Video of the killings in the eastern city of Sialkot on 15 August allegedly show the officers standing by as a mob beats the pair to death.
The brothers were mistaken for robbers, officials have said.
Footage shows the youths protesting their innocence as they are beaten with sticks and wires.
The brothers, Mughees Butt, 19, and Muneeb Butt, 15, are then strung up on poles.
At one point, the screaming youths ask to be shot so their ordeal can end. The case has caused outrage in Pakistan.
On Wednesday, a court in Sialkot remanded the five officers on charges that they did not intervene, and possibly abetted, the lynching.
The accused were arrested after an internal police inquiry.
Members of the crowd that were seen beating the brothers have been charged with murder.