Celebrities pitch in to help Pakistan flood victims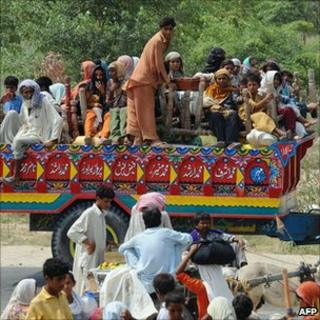 The gravity of the situation in Pakistan's worst floods took a while to register, both at home and abroad.
Part of that may have been due to the Muslim holy month of Ramadan when things generally slow down.
But the impetus has picked up since, with celebrities joining in with the fund-raising as the full impact of the flooding's aftermath becomes clear.
Pop stars and actors are among those who have stepped in to help.
"When I first saw the devastation I was shocked beyond words," says cricketer-turned-politician Imran Khan.
"But then I realised that this was an opportunity for us Pakistanis to get united and start a movement to save those hit by the floods."
Mr Khan is Pakistan's most famous and internationally recognisable celebrity.
He was married to Jemima Khan-Goldsmith, the daughter of billionaire Sir James Goldsmith.
After retiring from cricket in the 90s, he set up Pakistan's first charitable cancer hospital.
Since then he has formed his own political party, Pakistan Tehrik-e-Insaf (Pakistan Movement for Justice).
Mr Khan has remained a harsh critic of most of Pakistan's recent and past governments.
While failing to do well at the ballot box he remains a much loved and respected figure at home and abroad.
Since the devastating floods began a month ago, he has been actively involved in relief work and in raising funds for the victims.
He recently held a "telethon" on Pakistan's most watched private TV channel, Geo.
The 12-hour broadcast had local celebrities appearing in a talk show format as people called in with donations.
'Fantastic'
They included sportsmen, television actors and film stars.
"The response has been fantastic - so far we have raised $4.65m (£3.08m)," Mr Khan says.
And the funds are still coming in.
"Our first priority is obviously to provide food and shelter.
"But we have a long-term plan for helping people restart their lives."
Meera, a well-known Pakistani film actress, was one of several celebrities participating in the telethon.
"I think most of the money came in due to Mr Khan's presence and we are all with him.
"I am ready to do anything to raise funds for the poor refugees."
While Mr Khan's project is probably the largest involving celebrities, others have also stepped up their effort.
'Incredible'
Abrar-ul-Haq, a Pakistani Punjabi pop star with an international following, has been very much involved in the relief effort.
His Sahara Trust was involved in relief work in the Kashmir earthquake in 2005.
"So far Sahara has raised $1.16m (£770,000)."
Mr Haq, who has been to the flood-affected areas, says the destruction is "incredible".
"You can't really get a sense of it till you see it with your own eyes - television footage cannot really encompass it.
"We have really been able to get aid across very quickly - we were among the first people on the ground in south Punjab.
"My organisation is working in close alliance with the Youth parliament," Mr Haq explains.
The Youth parliament is a forum for young leaders in Pakistan - and has been quite active in the relief effort.
"We have been able to get food across to those stranded by the waters.
"We have also set up 19 camps across Pakistan to accommodate the refugees. We provide shelter and three meals a day at these venues."
Mr Haq says he is satisfied with the funds his patrons have come up with so far.
But a lot more is needed, he says. And for that reason, he is going to Paris and London for fund-raising events.
Several other Pakistani celebrities are in the midst of organising fundraisers or collecting funds.
Pop group Strings are expected to host a fundraiser in September.
Others - like pop star Jawad Ahmed and actor Adnan Siddiqui, who appeared in Hollywood production A Mighty Heart - have already left for fundraisers abroad.
Angelina Jolie, the star of A Mighty Heart, who has visited Pakistan several times, has also donated $100,000.
Another pop star, Shahzad Roy, is active in relief activities with his Zindagi (Life) trust which focuses on children.
Stars from Pakistan's film industry recently walked through the eastern city of Lahore to raise funds for the victims.
"We want to tell the world that while we are grateful for their help, we can do very well on our own," says Imran Khan.
"This is a great tragedy, but it's also an opportunity to bring us together," he says.
If you would like to make a donation to help people affected by the floods in Pakistan, you can find information about how to do so by clicking here.