Pakistan military taken off Washington airport plane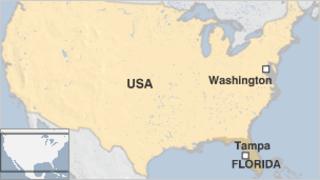 Pakistan's military has said it cancelled talks with American defence chiefs after a delegation sent to the US met "unwarranted" airport checks.
The VIP visitors were removed from a domestic flight at Washington's Dulles International Airport on Monday night.
Pakistan's Geo TV said a tired member of the group was reported by a passenger who overheard him saying he hoped it would be his last flight.
Other reports said the official had a disagreement with a flight attendant.
He had told the stewardess the flight would be her "last mission", United Airlines officials are quoted as saying.
'Regret'
The nine-member delegation had flown from the Pakistani capital Islamabad and taken a connecting flight to Tampa, Florida, for a meeting with US Central Command (Centcom), which oversees the wars in Iraq and Afghanistan.
But transport security officials removed the visitors from the flight as a result of the incident.
Pakistan's military said US authorities apologised, but the delegation returned home on Tuesday night.
An army spokesman told the BBC: "Our delegation was subjected to unwarranted security checks at Washington airport by the Transport Security Administration.
"Later, the delegation was cleared and US defence officials regretted the incident. However, as a result of these checks, military authorities in Pakistan decided to cancel the visit and call the delegation back."
Scores of passengers have complained of being singled out for checks due to their "Muslim" appearance following increased airport checks prompted by the 11 September 2001 attacks.