Civilians die in Pakistani air raid targeting militants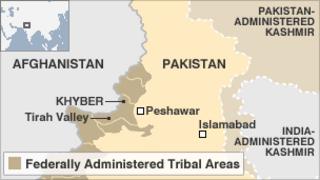 At least six civilians were among about 45 people reported killed in Pakistani military air strikes targeting militants in the north-west.
Security officials said family members were among those who died in the raids in the Khyber tribal district.
According to the officials, Pakistani jets and helicopters pounded targets in the Tirah valley from where suicide attacks were being prepared.
It is hard to check the claims as the area is largely inaccessible to media.
But according to unnamed officials, the military carried out several strikes on Tuesday night which destroyed militant hideouts and vehicles that were being prepared for suicide attacks in Peshawar, the capital of Khyber Pakhtunkhwa province.
A militant training centre and an illegal radio station were also said to have been hit in the region, which escaped the worst of the recent flooding that has devastated Pakistan.
Six civilians, including women and children, were killed in one of the strikes, Rehan Khattak, a senior government official in Khyber, told Reuters news agency.
But a senior security official told AFP news agency that at least 12 civilians died.
In April, dozens of civilians were killed in an air raid in Tirah after they were mistaken for Taliban. The head of the army made a rare public apology for those deaths.