Children in Pakistan hit by flood illnesses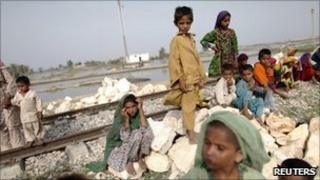 Children in Pakistan are bearing the brunt of water-borne illnesses spreading because of the floods, says the World Health Organization.
Its officials say the young have been especially affected by a rise in acute cases of diarrhoea and malaria from stagnant water.
The flood waters are beginning to drain away to the Arabian Sea but inundations continue in parts of Sindh province.
Few of the eight million people displaced have clean drinking water.
Meanwhile, neighbouring rival India announced it would raise its flood aid to Pakistan by five-fold, to $25m (£16m).
As the water retreats across Sindh back to the Indus river and down to the Arabian Sea, it is deluging new areas in the province.
Flooding has submerged the town of Gaji Khwawar and was also threatening the towns of Wara and Dadu in Sindh on Tuesday.
The BBC's M Ilyas Khan in Islamabad says many areas in Sindh and its neighbouring south-western province of Balochistan still look like lakes, with tens of thousands of people stranded on islands.
But the situation can vary widely from town to town.
The Sindh coastal town of Thatta, earlier evacuated, has been saved thanks to the plugging of a breach in a flooded embankment, say Pakistani officials.
But the town of Sujawal, just 40km (25 miles) away, remains under 2.5m (8ft) of water, says the BBC's Riaz Sohail in Sindh.
And about 30km south of Sujawal, fast-moving floodwaters are threatening the towns of Jati and Choohar Jamali.
'Severe malnutrition'
The floods spread west in Sindh when a breach was made on the right bank of the Indus about two weeks ago near Jacobabad city.
Local politicians accused the authorities of making the breach to save Jacobabad and a nearby airbase, which is allegedly being used by the US to launch Predator airstrikes in north-west Pakistan.
Part of the flooding caused by this breach inundated areas in Balochistan nearly 100km away from the Indus, such as Dera Allahyar and Dera Murad Jamali.
As well as the threat from a rise in illnesses such as diarrhoea, typhoid, hepatitis and malaria, about 72,000 children have severe malnutrition, UN officials say.
At the height of the floods, it is estimated that one-fifth of the country - an area the size of Italy - was underwater.
More than 1,600 people have died and about 17 million of Pakistan's 166 million people have been affected by the disaster.
If you would like to make a donation to help people affected by the floods in Pakistan, you can find information about how to do so by clicking here.