Afghanistan's Karzai 'doubts Nato anti-Taliban policy'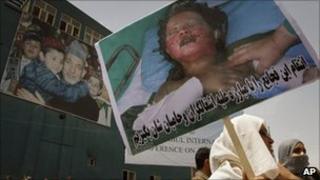 President Hamid Karzai has again questioned the Nato-led military strategy in Afghanistan, officials say.
Mr Karzai warned that night raids and civilian casualties risk turning Afghans against his government and the mission to defeat the Taliban.
He expressed little confidence the counter-insurgency plan would succeed, those at the meeting told the BBC.
Mr Karzai has already said US plans to begin withdrawing troops in 2011 have given the Taliban "a morale boost".
According to a statement from the presidential palace, he told a group of visiting German MPs "the counter-insurgency strategy should be re-assessed because the experience from the last eight years shows that fighting in Afghan villages is not effective as it only causes civilian casualties, nothing else".
The commander of the Nato-led force, Gen David Petraeus, has made winning civilian hearts and minds a key part of his strategy to defeat the Taliban.
But in an interview with the Washington Post newspaper, a key aide to the president, Mohammad Umer Daudzai, said that winning the confidence of the Afghan people was a job for President Karzai, not an American general.
'CIA agent'
Relations are increasingly fractious between President Karzai's government and the United States. The Afghan government has been angered by America's growing focus on official corruption in Kabul.
Afghanistan's national security adviser, Rangin Dadfar Spanta, has rejected US media reports that one of the government's top officials was on the payroll of the Central Intelligence Agency.
Zia Salehi, the chief of administration for the National Security Council, was detained by Afghan police in July after he was allegedly heard soliciting a bribe in a wiretapped telephone conversation.
Anti-corruption investigators, who have trained by US and British mentors, say the bribe was intended to discourage Afghan officials from investigating a company which is accused of transferring billions of dollars out of the country. A subsequent New York Times newspaper report alleged Mr Salehi was being paid by the CIA.
US officials, who have been angered by the corruption in President Karzai's government, are watching the case closely.
In an interview with the BBC, Dr Spanta said: "I can assure you that Zia Salehi was never a CIA agent or spy. Some countries have provided money for Afghanistan, in addition to the normal reconstruction projects, for strengthening Afghan state entities. If spying happened, then it was by the Afghan government, not by the CIA."
President Karzai says attention on the Salehi case is designed to undermine his government, and is a part of foreign interference in his country.
A deputy attorney-general in the government, Fazel Ahmed Faqiryar, who has led anti-graft efforts, was forced to retire last week because of his investigations into government figures, including Mr Salehi, he said.
But government officials said that the 72-year-old Mr Faqiryar was too old for the job. Those close to the president complain that by singling out Mr Salehi, investigators are ignoring even greater corruption.
One senior official said: "The president is of the view that if we want to fight corruption, we have to go and fight all corrupt officials. There are some that are earning millions through contracts. There are people who are supported through contracts by the US government. They include parliamentarians, some governors and ex-governors. They should be arrested too."