Sri Lanka cabinet backs Rajapaksa bid for third term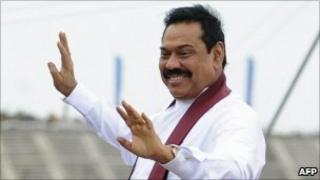 Sri Lanka's cabinet has backed a proposal to change the country's constitution to allow President Mahinda Rajapaksa to run for a third term.
Parliament is now expected to vote on the proposal to abolish the current two-term limit for presidents.
Mr Rajapaksa came to power in 2005 and won a second presidential term in January, following the defeat of the Tamil Tiger rebels.
He could stand again in November 2016 if the proposal becomes law.
"Cabinet has approved constitutional amendments, including removal of the president's two-term barrier," a senior cabinet minister told the Reuters news agency.
Rivals 'harassed'
Mr Rajapaksa has enough support in parliament to secure the two-thirds majority required to pass constitutional changes, although any amendment must also to be approved by the country's supreme court.
The 64-year-old leader won a commanding victory in elections in January, which he called early after declaring victory in a 25-year civil war with the Tamil Tiger separatists.
He is also the head of a powerful political dynasty. Several of his family hold key positions within Sri Lanka's government.
But opponents have accused Mr Rajapaksa of harassment and victimisation.
Earlier this month, his main election rival, Sarath Fonseka, the former chief of Sri Lanka's armed forces, was found guilty by a military court of dabbling in politics while still a military chief.
Mr Fonseka was stripped of his rank as a general and now faces further charges of corruption. He says he is being victimised for daring to challenge Mr Rajapaksa in the presidential elections, in which he won 40% of the vote.
The government says he was planning a coup and assassinations earlier this year.