Race against winter in Pakistan's north-west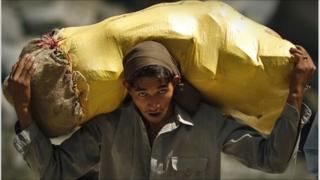 As the floodwaters recede in the north-west of Pakistan, the focus is starting to turn to reconstruction. Jill McGivering travelled to the town of Kalam in Swat where the whole community has been cut off - and desperately needs help with rebuilding.
The town of Kalam is visually stunning. It is nestled in a small valley, with a river running through it, surrounded by high mountains dotted with trees. It is clear why this region is sometimes called the Switzerland of Pakistan.
It is partly because of this natural beauty that it is also a well-known tourist destination. Until a few weeks ago, it had several hundred hotels and guesthouses. But when the great volume of floodwater swept through here, almost a hundred hotels were totally or partially destroyed.
The water also swept away all the nearby bridges. Now a narrow, rather rickety wooden bridge has been thrown up, just wide enough for people to walk back and forth.
I flew into Kalam with the US military. They are flying helicopters there several times a day when the weather permits, bringing in sacks of flour, boxes of fortified biscuits and cooking oil.
When they flew back to collect the next load, I went to speak to the men of the town who were sitting in the shade of the trees on high ground, waiting for the next helicopter to come. They said they are cut off from the outside world now and urgently need help.
The men gathered round and started to tell me their stories. "The water came in a great rush during the night," one man told me. "My house was destroyed and my shop and also my land. Everyone here has lost so much."
He said that he had some potatoes - a common crop here - and other vegetables and his family was living on those. "My children keep asking: please can we have bread?" he said. "I have to say: we haven't got any flour, we can't make bread."
The men were grateful to the Americans for their support. The supplies of food were making a big difference but with such a big local population, it simply was not enough to go round. Some of them had made the long journey on foot to the nearest big town to ask for help.
"There are 13 people in my family," said one young man. "We don't have enough to eat. I went with my brothers by foot to Mingora. It took us two days. People there gave us food - and we walked two days back again with it."
Clearly in the short term, people need food supplies but they also told me that they are very concerned about the longer term. The first priority, they said, was to repair the road which connects them to the outside world. And that had to be done in the next month or two before the snows fell in this region and it would be too late.
Snow coming
Fidq Muhammad, a young man who is also an engineer, explained why this was so important.
"Vegetables are our basic source of income here," he said. "Many of the vegetables have been destroyed. Our demand is to repair the road so it's open to traffic again and we can carry the vegetables which have survived to market.
"That way we can earn some money and buy goods and cover our basic needs. If this doesn't happen soon, snow will fall and then there's no chance of transport and the vegetables will be spoiled. If that happens, we will suffer very much."
Communication links are also vital to repair the damage to the tourism industry. The town suffered a lot last year when Swat was mired in a military offensive against Taliban insurgents in the area. Recently tourism was just starting to recover. Now it has again been hit.
The people of Kalam were angry about the lack of help they'd had from the government and local officials. They promised help, they said, but they still haven't given any.
Much of the focus at the moment is on meeting immediate humanitarian needs: getting shelter, food and water to those in the south who are still being hit.
But for those in the north-west, the first emergency phase is ending and a new, more complicated phase is beginning: a need for reconstruction and the slow process of recovery.
If you would like to make a donation to help people affected by the floods in Pakistan, you can find information about how to do so by clicking here.