Blast in eastern Afghanistan kills local official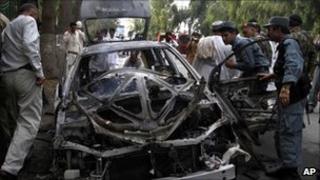 A bomb near the office of the governor of the eastern Afghan province of Nangarhar has killed a local official.
Lalpura district chief Sayed Mohammad Pahlawan was entering the governor's compound when his car blew up.
Governor Gul Agha Sherzai was inside the compound in the city of Jalalabad at the time of the blast but was unharmed. Four others were wounded.
The Taliban said they carried out the bombing. Mr Sherzai has been the target of attacks by the Taliban in the past.
The attack took place during the morning rush hour as a group of officials were entering the compound.
"It looks like the explosives were placed inside the district chief's car. We are still investigating. The district chief was killed and four others were wounded," the governor's spokesman, Ahmad Zia Abdulzai, told Reuters.
Flames could be seen rising from the site of the blast and security forces cordoned off several roads leading to the area, the news agency reported.