India Maoists kill four policemen in battle in Bihar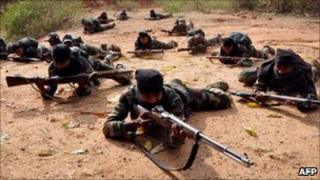 At least four policemen have been killed during a prolonged gunbattle with Maoist rebels in the eastern Indian state of Bihar, police say.
The battle is reported to have raged for more than 12 hours after the rebels attacked a security patrol in a forest.
On Sunday, five policemen were also killed in a shoot-out in the central state of Chhattisgarh.
More then 200 security personnel have been killed by the insurgents in the first six months of this year.
Scores of rebels battled with the police, who were on patrol in forests in Lakhisarai district, about 150km (95 miles) from the state capital, Patna, late on Sunday.
Police say they are looking for 10 policemen still missing after the battle.
The rebels say they are fighting for the rights of the poor and the landless.
Last year, the Indian government launched a major offensive against the Maoists in several states. The insurgency is seen as the country's biggest internal security challenge.