Pakistan town submerged amid fight to rebuild levees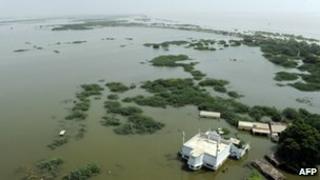 Floodwater has submerged a town in the southern province of Sindh, and threatens another being used as a key staging post for flood relief workers.
Sujawal, a town of some 250,000 people, has been submerged while people battle to save the nearby city of Thatta, reports say.
Authorities are still trying to rebuild levees around Thatta against the raging Indus river.
But water is still advancing on the all-but-abandoned city, reports say.
"We fled so hastily that we could not even pick up our belongings," Amena Bibi, a mother of four, told the BBC.
"We are sitting in this graveyard under the blazing sun, looking for shade here and there. We have nothing to eat. The floodwater swept away our cows and buffalo."
Future hunger
The international aid agency Oxfam says Pakistan will face devastating problems in the future, unless flood reconstruction efforts begin immediately.
A month after the floods began, the effort is still focused on the first stage of relief, rescuing and evacuating people.
But farmers have only a small window in which to plant the next harvest's crops, and that is fast closing, raising fears of future hunger.
"Pakistan doesn't have the luxury of waiting for the emergency phase to be over before starting the reconstruction," Neva Khan, Oxfam's country director said.
The massive floods have left some 8m people in need of emergency relief.
The lack of proper sanitation and cramped living conditions mean disease could spread quickly, says the BBC's Jill McGivering in Islamabad.
Four weeks since the flooding began, the scale of this humanitarian crisis is still growing. And on the ground, the amount of aid available is a long way from meeting the need, our correspondent says.
Across the country, some 17 million people have been affected.
If you would like to make a donation to help people affected by the floods in Pakistan, you can find information about how to do so by clicking here.