Afghanistan's Karzai criticises US troop pullout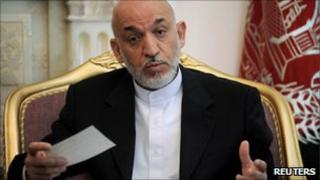 Afghanistan's President, Hamid Karzai, has criticised the US military's plans to begin withdrawing troops from the country in July 2011.
Mr Karzai said that announcing a date for the withdrawal had given the Taliban insurgency "a morale boost".
He also said the war could not be won as long as the Taliban were able to take refuge in neighbouring Pakistan.
Meanwhile, Mr Karzai's national security adviser denied one of his colleagues was on the CIA payroll.
Mr Karzai's comments were made at a meeting in Kabul with a group of visiting members of the US Congress, and repeated in a statement from his office.
The US has sent an extra 30,000 troops to Afghanistan since December 2009 in an effort to defeat the Taliban.
In the statement, Mr Karzai said progress had been made in rebuilding the country after decades of war, but that Afghan civilian casualties caused by Nato military operations were hampering progress in the war on terrorism.
He also criticised a lack of focus on "destroying the terrorists' refuge" across the border in Pakistan.
In an interview with the BBC, Mr Karzai's national security adviser, Rangin Dadfar Spanta, said fighting the war on Afghan soil was not enough.
"Even if we defeat the Taliban, al-Qaeda and other terrorist groups within Afghanistan, [if] we don't destroy the recruitment centre and we don't destroy the causes, it is not possible to win the war," he said.
Mr Spanta has repeatedly accused Pakistan of nurturing militants by providing sanctuary and support to the Taliban and other militant networks.
He said Islamabad still regarded Afghanistan as its sphere of influence.
The Afghan government has repeatedly demanded that the US take tougher action against Pakistan.
'Pumped up'
US Congressman Bob Inglis, who was at the meeting with Mr Karzai, said the president had asked for more help in stopping attacks from across the border with Pakistan.
"He seemed pretty pumped up, very determined and energetic and optimistic, which was not the way I thought we'd find him," he told the Associated Press.
Mr Inglis said the lawmakers had raised the issue of corruption and had received assurances from Mr Karzai that he was working on it.
Last month, one of Mr Karzai's security advisers, Mohammad Zia Salehi, was arrested by a US-backed anti-corruption taskforce on charges of soliciting a bribe. He was released a short time later after Mr Karzai intervened.
It was recently claimed by the Washington Post that Mr Salehi is one of a number of high-ranking officials in the Karzai administration who were paid by the Central Intelligence Agency (CIA).
Quoting unnamed US and Afghan officials, the paper said Mr Salehi had been receiving money from the CIA for years.
A separate investigation by the New York Times alleged that Ahmed Wali Karzai, the president's half-brother, was also being paid by the CIA. The CIA disputed the claims and labelled the speculation as dangerous and counterproductive.
Mr Spanta rejected the reports that Afghan officials were on the CIA's payroll.
''It is a crime if someone directly takes money from foreign intelligence agencies as their employee," he told the BBC's Dawood Azami. "We don't have information that such people exist. If we found out, we would want to punish them.''
He said there was no proof that Mr Salehi specifically was accepting such payments directly, but acknowledged that foreign countries helped Afghan institutions financially and that this money might have been given to Afghan officials.
''The truth is that in some departments, especially in the intelligence departments, some foreign intelligence agencies who are our partners in our war against terrorism give some money to these Afghan intelligence departments to carry out their duties," Mr Spanta added.
"I think there is a fundamental mistake here. This person has not taken any money from the CIA. Even, if he has taken money, he has taken money from Afghan department which in turn received aid from international community."
Correspondents say relations between Mr Obama and Mr Karzai have rarely been easy - particularly after Mr Karzai was re-elected last year in an election widely condemned as corrupt by Western observers.
Mr Karzai has been increasingly outspoken in his criticism of Western powers.
Last month, secret US documents released by the Wikileaks website showed US concern that Pakistan's intelligence agency was supporting the Taliban in its war in Afghanistan.