India police say 848 tonnes of explosives are missing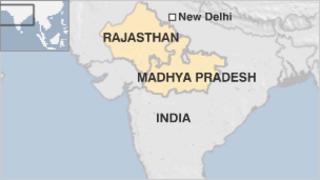 Police in the central Indian state of Madhya Pradesh say they are investigating the disappearance of several hundred tonnes of explosives.
About 164 truckloads, sent from the neighbouring state of Rajasthan, have failed to arrive since May.
Police say they suspect the involvement of illegal mining outfits, but one officer said some explosives might have been sold on to militants.
Two men have been arrested and rewards have been offered for five others.
The explosives were sent out from a factory in Dholpur in Rajasthan.
Police say the total amount of missing explosives is 848 tonnes, besides hundreds of thousands of detonators.