Pakistan floods 'consuming' southern villages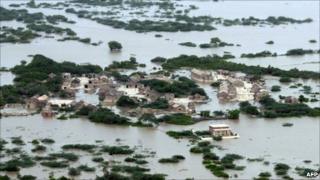 As Pakistan's flood surge travels south down the Indus River, it devours more and more villages, as the BBC's Orla Guerin saw on a mission with the Pakistani air force.
Over half-a-million people have been ordered to evacuate their homes in Pakistan's southern province of Sindh.
Three more towns are now threatened by floodwaters, and there is concern about the fate of Pakistan's sixth largest city - Hyderabad.
From the air, the threat to Hyderabad is clear.
A flood defence system called the Kotri Barrage stands between the city and disaster. The Indus River has swollen to 10 times its normal size here.
If the water breaks through, about two million people are at risk. But the barrage is holding - for now.
Inland ocean
As the floodwaters keep moving through Sindh province towards the sea, so does the Pakistani air force. We joined them on their first relief mission this far south.
We flew over an expanse of water that now looks like an ocean - punctuated by tree tops and roof tops. The floods are so vast that they are turning into the world's largest freshwater lake, according to the aid organisation Oxfam.
In Thatta district, the relentlessly greedy waters are closing in on more villages. Local authorities want people to get out now, but it is unclear how many will go.
Several times we flew over shrinking patches of land. The crew gestured to villagers below, offering airlifts to safety, but local people waved them away. Many here are bound to their land and their livestock, and will live or die with them.
"It's their psyche," said the pilot, Wing Cdr Sabih Wali-ur-Rehman.
"They want to stay with their three or four goats and their food supplies. They usually have enough for the year. They don't want to leave that behind and go to a camp. Nobody there will guarantee them food for that long."
We spotted one young boy, clinging to the top an electricity pylon. He climbed down to collect a bag of aid, but refused to be removed from the waters.
The air force is dropping waterproof bags with a 20-kilo (44 lbs) ration of milk, water, dates, and biscuits. The aid operation is a delicate balancing act.
"I have to make sure I can drop this aid, which will only last a family for two to three days, without blowing the roof off their houses," said the wing commander.
"When I see a man standing below me with his wife, and children and his parents, without a single penny, I think of my own two sons," he said.
"Sometimes they raise up the holy Koran towards the sky, begging for help. I'm just a delivery man. I drop all the aid I have, but I don't know how many people I may have missed."
Since the floods began he has flown 85 missions, dropping 1.28 tonnes of aid, and he has rescued 377 people.
He expects to be flying relief missions for months to come.
"When we finish dropping food, we'll have to start dropping medicines," he said.
'We need help'
On the ground in Thatta we found new victims of the flood - the displaced population of a village called Munarkee.
Surging waters consumed the village a week ago - destroying homes and businesses and the primary school that took pride of place.
The villagers have moved to higher ground - safe from the flood, but exposed to the sun and to hunger.
They live now by the side of the road, with fragments of their old life around them - some cattle and goats, bundles of clothing, and dwindling supplies of food.
This was where Rubina gave birth five days ago to a boy named Sarang, meaning "the musical one".
She sits on a woven cot, cradling her newborn in her lap, stroking his flushed forehead every few minutes.
"When I gave birth, there was no doctor," she said.
"He has developed a fever. Where can I take him? My daughter is sick too. I am worried for them both."
Her three-year-old girl, Benazir, sat on her lap looking listless. Rubina only has biscuits to give her. She has no medicine for either child.
The villagers told us they expected to be marooned for a month until the waters recede.
They said they wanted help from the government, but no one seem confident that it would come.
"We need help from the government, and if we don't get it, death is waiting," said Abdel Karim, a 50-year-old casual labourer.
Like others from Munarkee he has had no work since the floods. He showed us the food he had left for his five children - half a packet of tea, a few handfuls of flour and two melons.
When asked if the children had eaten that day he shook his head.
"We loved our village," he said.
"It was such a lively place, but I watched it drown before my eyes. It was so painful. We could not save any of the houses."
Even before the flood the people of Munarkee lived hand-to-mouth. Now they are at the mercy of the flood and of disease.
Asked how he would feed his children, Abdel Karim said he would borrow.
"My debt will increase every day," he said "and eventually my children will inherit this burden. That's what the poor will have to do to survive."
If you would like to make a donation to help people affected by the floods in Pakistan, you can find information about how to do so by clicking here.