Robert Gates says US exit from Afghanistan on course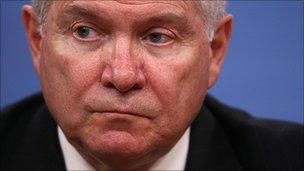 US Defence Secretary Robert Gates says the US will definitely start reducing the number of its soldiers in Afghanistan next July.
On Sunday, the commander of Nato forces in Afghanistan, General David Petraeus, said that he might advise President Barack Obama to delay the exit plan.
But Mr Gates told the Los Angeles Times there was no question that the US would begin reducing troop levels in 2011.
Mr Gates said in another interview that he planned to leave office in 2011.
President Obama set 2011 as the date to begin withdrawing forces from Afghanistan in December.
At the same time, he approved the deployment of 30,000 extra troops to the country.
"There is no question in anybody's mind that we are going to begin drawing down troops in July of 2011," the Los Angeles Times quoted Mr Gates as saying.
"With more Afghan forces, we can be on a path to transition in more places around the country," he added.
"The success with the army in particular, I think, bodes well for in fact beginning to have some transitions maybe as early as this spring, but certainly beginning in the summer."
Mr Gates played down the possibility of rapid cuts in US troop levels starting in July 2011.
In a separate interview with Foreign Policy magazine, Mr Gates suggested that he would leave his post sometime next year.
"I think that by next year I'll be in a position where - you know, we're going to know whether the strategy is working in Afghanistan," he said.
"We'll have completed the surge. We'll have done the assessment in December. And it seems like somewhere there in 2011 is a logical opportunity to hand off."
Mr Gates' comments come soon after Gen Petraeus said he would not be bound by a 2011 target date to start withdrawing US troops.
Speaking on NBC television, Gen Petraeus said he reserved the right to tell President Obama whether the pull-out date was too early.
He was speaking after US forces endured their deadliest month - July - since the Afghan conflict began in 2001. Sixty-six US soldiers were killed during July.
Gen Petraeus said the Afghan mission was tough and would remain so.
The general took over command of international forces in Afghanistan last month.
His predecessor, Gen Stanley McChrystal, was sacked after he made disparaging remarks about the Obama administration in a magazine article.
Support for the war in Afghanistan is waning in the US and other troop-contributing countries as the death toll continues to rise.
The number of foreign troops killed since the 2001 invasion is reported to have passed 2,000.
The Netherlands ended its mission in Uruzgan in southern Afghanistan two weeks ago, while Canada is scheduled to pull out of Kandahar province next year.
That leaves the US and Britain to bear the brunt of military operations.
Related Internet Links
The BBC is not responsible for the content of external sites.