East India Company returns after 135-year absence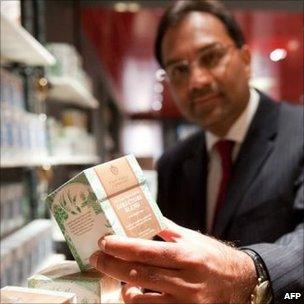 An Indian entrepreneur is relaunching the famous East India Company with the opening of a luxury food store in London on Saturday.
The event takes place on the same day that - more than 135 years ago - the company was dissolved.
At the height of its power, the East India Company controlled large parts of India with its own armed forces.
But it was disbanded after soldiers of the company's own army rose in revolt against the British in 1857.
A tiny rump of the company lived on, however, consisting of its trading name and a small tea and coffee concern.
This shadow of what was once a global trading power was acquired in 2005 by Indian businessman Sanjiv Mehta, who has turned it into a consumer brand focused on luxury foodstuffs.
He told the BBC that the project was not simply a commercial venture - there was an emotional connection too.
"It is a dream come true to build a business like this and to acquire a brand like this to own the company," he said.
Mr Mehta dismissed fears that the reappearance of a company long associated with colonialism would open old wounds, insisting he had been inundated with messages of support from his compatriots.
"It's a disproportionate joy, [I have received] more than 15,000 e-mails [of support] from various Indians across India, even from Barbados to Fiji to Canada to Boston."
The entrepreneur, who moved to Britain around 20 years ago, says that he has acquired a 400-year-old brand already known to millions of people around the world.
At its peak, the company employed a third of the British workforce and was responsible for a huge tranche of global trade.
Mr Mehta hopes eventually to make a return to India to tap the market for luxury goods in one of the world's fastest expanding economies.
The company was created by the granting of a charter from Queen Elizabeth I in 1600 and given a monopoly on English trade to Asia. Its early business activities focused on cotton, silk and tea.
Mr Mehta's shop in London is stocked with 350 luxury products, including 100 varieties of tea, chocolates, spices and mustards developed by the company from across the world.
Related Internet Links
The BBC is not responsible for the content of external sites.