War against Taliban 'being lost' says Zardari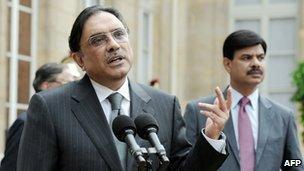 The international community is losing the battle against the Taliban in Afghanistan, Pakistan's President Asif Ali Zardari has said.
The international coalition have already lost the battle for the "hearts and minds" of Afghanistan's people, he told the French newspaper Le Monde.
He criticised outspoken comments made by the British Prime Minister about Pakistan's approach to the Taliban.
He was speaking in France before going to the UK for a five-day visit.
"I believe that the international community, which Pakistan belongs to, is in the process of losing the war against the Taliban, and that is, above all, because we have lost the battle for hearts and minds," Le Monde quoted him as saying.
British Prime Minister David Cameron last week said some elements in Pakistan "looked both ways" when it came to the Taliban.
"It is unfortunate that certain individuals continue to express doubts and fears about our determination to fight militants to the end," Mr Zardari said in a statement released before visiting the French foreign minister.
Related Internet Links
The BBC is not responsible for the content of external sites.