Sri Lanka lacking reconciliation, say global leaders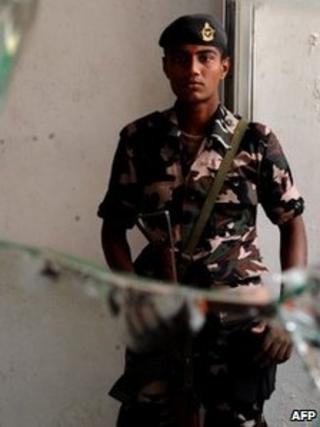 Former Finnish President Martti Ahtisaari has said he is sad that post-war Sri Lanka has not improved "to the extent that one would have hoped".
In an interview with BBC Sinhala, he said there should be more transparency and a climate which allowed "proper media reporting".
He was speaking just before the launch of a report on Sri Lanka by The Elders, an influential group of global leaders.
The report says there has been little progress on post-war reconciliation.
The report by The Elders - a group of leaders brought together by Nelson Mandela in 2007 to address major causes of human suffering - is sharply critical of the Sri Lankan government.
It says that the government's "clampdown on domestic critics and its disdain for human rights deserves a far tougher response".
"Meaningful progress on reconciliation in Sri Lanka is still desperately needed," it says.
It said there was a "deafening global silence" to Sri Lanka's "worrying approach to human rights, good governance and accountability", which may encourage other states to act in a similar way.
The report said that the government's persecution of its critics was "terrifying".
An MP from the governing coalition, Rajiva Wijesinha, said that retired elders were "simplifying and preaching" instead of making recommendations to build on the positive change.
He said there was no lack of dissent and criticism - and this was seen daily in newspapers and the parliament.
'Violations'
Mr Ahtisaari said the announcement by the government that it was setting up a Lessons Learnt and Reconciliation Commission to look into alleged human rights abuses at the end of the war in May 2009 - rather than work with a UN panel looking into the same issues - was not satisfactory.
"If you look at previous examples of special commissions in Sri Lanka, one has to be sceptical," he said.
"Over the last 30 years the reports of other commissions similar to this have not even been made public. So this effort leaves much to be desired."
The Elders group is chaired by Archbishop Desmond Tutu and has former Irish President Mary Robinson, former UN Secretary General Kofi Annan, former Algerian Foreign Minister Lakhdar Brahimi and former US President Jimmy Carter among its members, in addition to Mr Ahtisaari.
They have contacted the government of Sri Lanka and officials around the world to express their concerns about "alleged violations of international humanitarian law and the need for actions that promote sustainable peace and reconciliation in the country".
The government argues that Tamil Tiger remnants, both at home and abroad, still pose a threat to national security.