July is deadliest month of Afghanistan war for US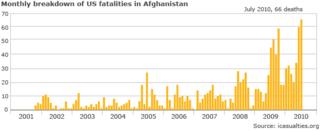 American forces have experienced their deadliest month in the nine-year-old Afghan war, with 66 US service members killed in July.
The death toll crept up again on Friday as three more American soldiers died - two from a roadside bomb - in the south of the country, Nato confirmed.
The previous most deadly month for the US was June this year, when 60 died.
Meanwhile, hundreds of UK and Afghan troops have launched a major offensive against the Taliban in Helmand.
'Death to America'
Casualties have risen since US President Barack Obama ordered 30,000 reinforcements to Afghanistan last December to step up the fight against a resurgent Taliban.
June this year remains the deadliest month for international forces since 2001's US-led invasion of Afghanistan, with 102 service members killed, according to the independent iCasualties website.
Meanwhile, police fired shots in the air in the Afghan capital Kabul on Friday to disperse an angry crowd, after a fatal road accident reportedly involving vehicles linked to the US embassy.
Witnesses said four civilians in a car died when it was in a collision with one of two armoured vehicles moving in convoy.
Two vehicles were set on fire as a crowd of Afghan people hurled stones and shouted "death to America".
The US embassy in Kabul released a statement saying that "four US contract personnel" had been in the vehicle involved in the accident, reports AFP news agency.
One man at the scene, Ahmad Jawid, was quoted by AP news agency as saying: "Are we not Muslims? Are we not from Afghanistan? Infidels are here and they are ruling us. Why?"
Friday's deaths of three more US service members came a day after three others died in two separate blasts in southern Afghanistan.
This month also saw the deaths of US Navy sailors Justin McNeley and Jarod Newlove.
They were found dead this week after driving out of a base at eastern Logar province last week for reasons that remain unclear.
On Friday morning, British and Afghan troops launched a major operation in the Nad Ali district of Helmand province.
Operation Tor Shezada (Black Prince) is said to be UK forces' largest offensive since Moshtarak in February 2010.
Nad Ali is one of the Taliban strongholds that UK forces were unable to clear during Moshtarak.