Indian police arrest man carrying horde of snakes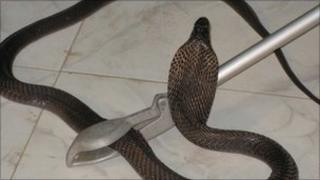 A man has been arrested on suspicion of breaking wildlife laws after he was found with 43 snakes in his car, police in the Indian city of Jaipur have said.
Rajesh Kapoor was arrested with the snakes, including eight protected cobras, in a cotton bag, police said.
Mr Kapoor has previously been linked with idol smuggling and antiques theft, superintendent of police Hawa Singh Ghumariya said.
A snake rescue team was looking after the snakes.
The arrested man runs a fitness centre in Jaipur and told journalists that he hoped to sells the snakes on the international market.
Police say that he claimed to have got the snakes from snake charmers - but their investigations revealed this to be untrue and he was arrested on suspicion of various offences in contravention of India's wildlife laws.
A snake rescue team led by Piyush Shashtri has now been deployed by police to treat the serpents, some of which are suffering from injuries, police said.
They said that three species of snake were found, but only the cobras were poisonous. It is believed they were ill-treated and kept in cruel conditions.
''Snakes are in big demand on the international market for their skins and venom," Mr Shashtri said. "Body parts are also in demand to use in herbal medicine."
Mr Ghumariya said that the snakes will be released into the forest "after completing the legal process".