Obama: 'Nothing new' in Wikileaks Afghan records leak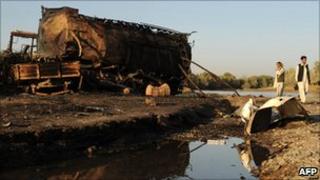 Barack Obama has said that the leaking of classified documents on the war in Afghanistan is a concern, but that it had not revealed any new information.
In his first public reaction to the leak, the US president said the data justified his decision to overhaul the US military strategy in Afghanistan.
Wikileaks, which posted the documents on its website, describes them as battlefield and intelligence reports.
New details, including reports on Osama Bin Laden have emerged from the files.
Several files track Bin Laden, although the US has said it had received no reliable information on him "in years".
"While I am concerned about the disclosure of sensitive information from the battlefield that could potentially jeopardise individuals or operations, the fact is these documents do not reveal any issues that have not already informed our public debate on Afghanistan," Mr Obama said at a press conference in Washington.
"Indeed they point to the same challenges that led me to conduct an extensive review of our policy last fall."
"For seven years, we failed to implement a strategy adequate to the challenge in this region," he added, pointing out that it was from Afghanistan that the 11 September attacks on New York and Washington and other terror plots originated.
"That's why we have substantially increased our commitment there, insisted upon greater accountability from Afghanistan and Pakistan, developed a new strategy that can work. Now we have to see that strategy through."
Hunt for whistle blower
The Pentagon has launched what a spokesman described as "a very robust investigation" into who passed the classified documents to Wikileaks.
The Army Criminal Investigation Division has also launched its own inquiry into the breach.
Wikileaks says the documents were compiled by a variety of military units between 2004 and 2009, the majority of them written by soldiers and intelligence officers listening to reports radioed in by troops on front line deployments.
In August 2006, a US intelligence report placed Bin Laden at a meeting in Quetta, over the border in Pakistan.
It said he and others - including the Taliban leader, Mullah Omar - were organising suicide attacks in Afghanistan.
The targets were unknown, the report said, but the bombers were carrying explosives from Pakistan.
Nearly 200 files concern Task Force 373, a US special forces unit whose job was to kill or capture Taliban or al-Qaeda commanders.
The records log 144 incidents involving Afghan civilian casualties, including 195 fatalities, the UK's Guardian newspaper reports.
The Wikileaks dossier includes an incident in June 2007 when the unit engaged in a firefight with what were believed to be insurgents. An airstrike was called in.
Seven of those killed were Afghan police officers. A further four were injured. The incident was labelled a misunderstanding.