Afghan leader blames Nato for Helmand rocket attack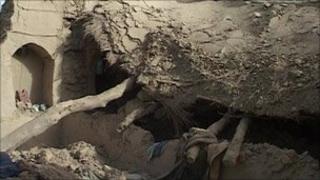 Afghan President Hamid Karzai has blamed Nato for a rocket attack in Helmand province that killed dozens of civilians.
Mr Karzai said an Afghan inquiry had found international forces fired a rocket in Sangin on Friday that killed 52 innocent people.
Nato says an initial investigation into Friday's incident had found nothing.
But purported witnesses told the BBC that women and children were among the dead when a missile hit some homes.
And a statement from Mr Karzai's office said an investigation by Afghanistan's National Directorate of Security intelligence agency had found Nato was to blame.
"The president condoled via phone with the mourning families and called on Nato troops to put into practice every possible measure to avoid harming civilians during military operations," the statement said.
However, Nato spokesman Col Wayne Shanks says initial reporting from the area did not confirm any civilian casualties or stray Nato rockets.
For several months, there has been a significant reduction in civilian casualties and very few air strikes, under a new policy of restraint ordered by former US commander Gen Stanley McChrystal.