India politician held over murder in Gujarat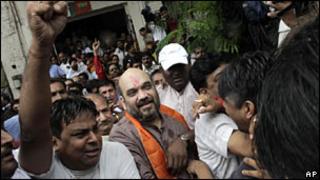 A former minister in India's Gujarat state has been arrested in connection with the 2005 killing of a man by police.
Amit Shah, former junior home minister in the state's Hindu nationalist BJP government, has been remanded in custody.
He said the charges against him were "fabricated and politically motivated".
The Gujarat police have said that Sohrabuddin Sheikh, a Muslim civilian, was killed in a staged gun-battle.
At least three top policemen in the state were charged with the murder of Mr Sheikh.
They are alleged to have attempted to cover up the killing by claiming he belonged to an Islamic militant group.
The Gujarat government, headed by Mr Narendra Modi, then admitted that the missing wife of Mr Sheikh, Kausar Bi, was also killed and her body was burnt.
'Fake encounter'
Mr Shah was detained shortly after appearing in public to protest his innocence. He resigned on Saturday when the charges against him were first filed.
A close ally of Gujarat's chief minister, Narendra Modi, he said the charges of murder and kidnap are politically motivated
Mr Sheikh and his wife had been travelling by bus when they were taken away by the Gujarat police in November 2005.
At the time, police claimed Mr Sheikh belonged to a banned militant group and was plotting to assassinate Mr Modi.
Gujarat has been heavily criticised for the treatment of its religious minorities.
According to official figures, more than 1,000 people, mostly Muslims, were killed during the riots that broke out after nearly 60 Hindus were killed when a train was set on fire in Godhra town, allegedly by a Muslim mob, in 2002.
The state administration was accused of not doing enough to stop the riots.
Security forces in India have on occasion admitted to extra-judicial killings - described by the local media as "fake encounters" - in which they had at first said they had killed militants after coming under gunfire.