Former Sri Lankan president denounces the government
By Saroj Pathirana
BBC Sinhala service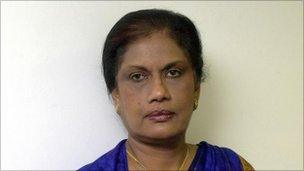 Former Sri Lankan President Chandrika Kumaratunga has launched one of her most outspoken attacks against the government.
She accused it of "completely forgetting the legacy" of her mother, Sirimavo Bandaranaike, the world's first woman prime minister.
She said it was also wrong to ignore her accession to power 60 years ago.
No-one from the government was available to respond to her allegations.
Ms Kumaratunga said the government have an "obsession against" the Bandaranaike family.
"She was not remembered except by ordinary people," Ms Kumaratunga told BBC Sinhala.
"Yet neither her party nor the government did anything at all to remember her achievement. I think it is very petty-minded and it is disgusting.
"She put us on the world map. She was a prominent leader of the Non Aligned Movement and took leadership in many other international negotiations."
Correspondents say that while Ms Kumaratunga has attacked the government of President Mahinda Rajapaksa before - she backed his rival Sarath Fonseka in the January presidential elections - Friday's denunciation was one of her most outspoken since the president came to power in 2005.
Related Internet Links
The BBC is not responsible for the content of external sites.