Burma leader's India visit draws rights criticism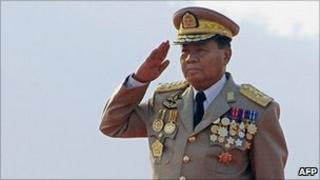 Burmese military ruler General Than Shwe has arrived in India for a controversial five-day visit, which has been condemned by rights groups.
The junta leader is expected to meet Prime Minister Manmohan Singh on a trip that marks India's desire to strengthen trade links with its neighbour.
Rights groups have written to Mr Singh saying it was "unbecoming" of a democracy to welcome Gen Than Shwe.
Burma's junta is accused of widespread human rights abuses.
Until the mid-1990s, Delhi was a supporter of Aung San Suu Kyi, Burma's imprisoned pro-democracy leader.
But analysts say India's desire to do business with Burma, reputed to have large reserves of natural gas and precious stones, has since outweighed concerns over human rights.
The BBC's Subir Bhaumik in Calcutta says some Indians welcome what they see as a pragmatic approach to foreign policy, but many others support Burma's pro-democracy movement and accuse their country of not doing enough to support it.
Gen Than Shwe began his trip in Bodh Gaya, a Buddhist pilgrimage site, and he is due to visit information technology and pharmaceutical businesses in Hyderabad before meeting Mr Singh.
But officials told the BBC that they are unlikely to discuss Burma's forthcoming election - the first parliamentary vote in two decades, which the military is almost certain to dominate.
"It is crucial for India to cement its relationship with Myanmar [Burma] to deal with the insurgency that plagues the north east and to counterbalance China's influence," an unnamed Indian official told the AFP news agency.
The US, one of the countries to have imposed sanctions on Burma's military, urged India to "send a clear message to Burma that it needs to change its course".
The International Federation for Human Rights, which represents 164 organisations across the world, wrote to Mr Singh saying the junta's "well-documented human rights abuses includes acts that may amount to war crimes".
And some in the energy industry also doubt that deepening ties with the junta is good for business.
"India expected Burma to supply natural gas from the huge deposits in its Arakan province," said Ashok Das, a retired official of the state-sponsored Oil India company.
"That is why we invested there. But all the Arakan gas is now going to China."
Indian officials say Burma is also doing little to check the flow of narcotics and weapons into India, according to our correspondent.