US official visits Maldives to break deadlock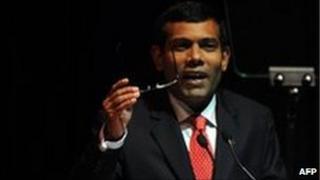 A senior US diplomat is to visit the Maldives in an effort to end the political crisis in the Indian Ocean nation.
The country has been in limbo since the mass resignation of the cabinet, who claimed the opposition-led parliament were blocking their every move.
Four MPs are being investigated for alleged bribery.
Opposition MPs say the government is acting unconstitutionally and preventing them from doing their job.
The dispute has sparked violent street protests by both sides, and the US and UK have issued travel warnings to citizens travelling to the popular holiday destination.
Robert Blake, US assistant secretary of state for South and Central Asia, is arriving on Thursday for meetings with all political parties in an attempt to negotiate a solution.
President Mohamed Nasheed, who became the country's first democratically elected leader in 2008, says an alliance of MPs are preventing his proposed reforms from becoming law.
His government says the MPs had also threatened to bring no-confidence motions against every minister.
Mr Nasheed has since reappointed ministers, but they require the approval of parliament, which has been unable to hold a session due to the dispute.
"We are happy to engage in talks with opposition parties. We would like to resolve the differences between us," the president said at a press conference in the capital, Male', on Wednesday.
'Incarcerated'
A statement released by the Maldivian embassy in the UK said it was looking for a solution that would "focus equally on the executive, the legislature and the judiciary".
Alleging that the Supreme Court is biased towards the former regime, the government is calling for the International Commission of Jurists (ICJ) to set up an independent judiciary in the country.
Abdullah Yameen, an opposition MP and the half-brother of ex-President Maumoon Abdul Gayoom, says the "autocratic" government has illegally detained him on the presidential island of Aarah.
"They don't want to give me any political space," he told the BBC.
"The government is not able to do what they want with the national agenda because the parliament is obstructing that... This is why we are being incarcerated, intimidated".
The president's office says Mr Yameen is there for his own protection.
Mr Yameen says he is not willing to hold any talks with the governing Maldivian Democratic Party (MDP) coalition until he is released, and says he will only agree to "reasonable" requests.
The Maldives voted for a presidential system in a referendum in 2007, with the then opposition MDP campaigning for a parliamentary system.