Banished from Delhi for Commonwealth Games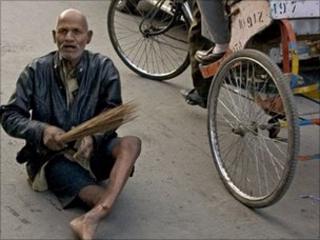 There is a grand plan to clean up the Indian capital for the Commonwealth Games - but it includes a very long list of who is to be banished from Delhi.
It started with stray dogs, slum dwellers and pavement squatters, but has now included cows, donkeys, bulls, goats, rats, snakes and even elephants and camels that are hired for general festivities and fairs.
And the cost to the government - $65m.
Delhi, a sprawling city of 16 million, is to host the Games from 3-14 October.
The Games will bring an estimated 10,000 athletes from 71 nations and territories to compete in 17 disciplines over 11 days.
In addition, there will be over 150,000 officials and an estimated 50,000 tourists.
The mess
"It is not easy to relocate nearly 250,000 stray dogs. Where are the homes?" asks Geeta Seshamani of Friendicoes, an NGO that takes care of stray animals in the city.
And it is the numbers that are causing the mess.
Consider the number of beggars. The municipal corporation estimates them at 60,000, but that is based on a survey done a decade ago.
According to estimates given by local NGOs, the number now is actually double.
"The government is trying to sweep the poor under the carpet. This will not help. Let's seek a more humane way of addressing a centuries' old problem," says Bibek Debroy, one of India's top economists.
Ashok Mohan Chakrabarti, the home secretary in India's eastern West Bengal state, who was recently asked by the Delhi government to take back beggars speaking ethnic Bengali, agrees.
"We have 75,000 beggars in our state and then Delhi wants to send its beggars.
"Moreover, how will we know that all Bengali language-speaking beggars in Delhi are from West Bengal and not from Bangladesh," Mr Chakrabarti asks?
'Mission impossible'
Delhi is also trying to figure out what to do with the 60,000 pavement squatters and another 800,000 slum dwellers.
"Should we dump everyone on the borders of Delhi and bring them back after the Games are over?" asks Dunu Roy, director at Hazards Centre, a Delhi-based non-profit group that provides professional services to community and labour organisations.
The government says it will provide flats to those evicted, and spend $5,000 per family.
"But - given past experiences - only a fourth of the affected families will get flats," Mr Roy argues.
But the city must get ready for the sporting extravaganza.
Thanks to the Games, 26 new flyovers and 18 railway bridges have been built at a cost of $1.4bn.
The city has got 3,775 low-floor buses, the city metro - with a $3.4bn budget - has moved into the suburbs and the Indian capital has got a new airport terminal capable of handling 60 million passengers a year.
The Games budget - predictably - has undergone several revisions.
From the initial projection of $413m, the estimates now range from the official figure of $2bn to the unofficial estimates of $6bn.
The big relocation and beautification project has drawn flak from several quarters because Delhi officials routinely updated their list of demands so that it began to resemble a mission impossible.
For example, the Municipal Corporation of Delhi (MCD) wants to clean the city of all rats.
"We propose to buy thousands of traps," says MCD's veterinary department director RBS Tyagi.
He says the MCD will also get incinerators to dispose of the dead rodents.
Such an idea has its critics. "Catching rats will also be ineffective because more rats simply move in to take their place. Why not keep Delhi's streets clean and free of garbage?" asks Poorva Joshipura of People for Ethical Treatment of Animals (Peta).
Snake charmers needed
That alone might not solve the problem.
The MCD will have to install over 10,000 public urinals to prevent people from urinating in public, fine people for spitting and throwing garbage on the streets and hire snake charmers to rid the city of its snakes before the Games.
It will also have to get local cowboys to clean the streets of its cattle population that stands at a whopping 45,000.
"It is a bit of madness that's creeping in," says Shalini Mishra, a research officer at the Delhi-based Habitat International Coalition, an NGO that recently released a critical report on the impact of the Games.
"Where will they get the snake charmers from?
"All this is to increase the city's civic pride but the heart is lost," she adds.