Driver 'error' led to West Bengal train crash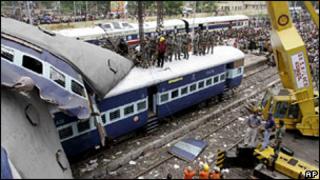 Driver error may have led to Monday's train crash in eastern India's West Bengal state which left 63 people dead, preliminary investigations have found.
The express had entered the station in Sainthia town at full speed, even though it had a scheduled stop there, railway officials say.
The driver did not brake or heed numerous stop messages, before the express hit a stationary train.
Another train crash in West Bengal back in May killed nearly 150 people.
Authorities blamed sabotage by Maoist rebels for that tragedy.
Monday morning's accident occurred when the Uttar Banga Express smashed into the stationary Bhagalpur-Ranchi Vananchal Express at the station in the Birbhum district, about 200km (125 miles) north of Calcutta.
'Top 20 driver'
Railway officials told the BBC the train had entered the station at its top speed of 90km/h, despite numerous warnings to stop.
"The driver did not apply either the emergency brakes or the normal brakes even after it passed a red signal. They did not respond to frantic wireless messages to stop," said Indian Railway's board chairman Vivek Sahay, at the crash site.
According to the cabin man posted at the approach to Sainthia station, the Uttar Banga Express also did not respond to his warnings.
"I shouted in my walkie-talkie asking the Uttar Banga Express to stop. When that did not work, I waved the red flag frantically but the train passed by on to the track where the Vananchal Express was parked," cabin man Mator Let told the BBC.
The driver and his assistant both died in the crash.
Service records of the Uttar Banga Express's driver suggest he was rated among the top 20 drivers in the Indian railway service, investigating officials said.
They found that the Uttar Banga Express had made a perfect stop at the previous station, 7km away.
When the signal at Gadadharpur Halt turned green, the Uttar Banga Express had moved on to its next scheduled stop of Sainthia.
"How could they make a perfect halt at a point and then crash their train into another barely five minutes later?" said Eastern Railway's safety commissioner Arti Yadav.
Railway officials are also puzzled by the driver and his assistant's apparent lack of reaction - they do not appear to have tried to jump off the train or apply brakes.
It was also unusual for the Uttar Banga Express to have picked up top speed within five minutes of leaving the previous station, with a scheduled stop ahead, said the officials.
Indian Railways operates 9,000 passenger trains and carries some 18 million passengers every day.
Accidents are common on the state-owned Indian railway, an immense network connecting every corner of the vast country.