US Secretary of State Clinton unveils Pakistan aid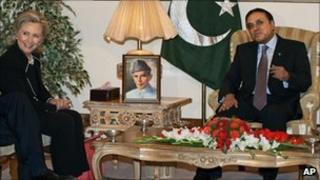 US Secretary of State Hillary Clinton has announced a raft of new Pakistan aid projects worth $500m (£328m).
On a visit to Islamabad, she said the US wanted to show it cared about ordinary Pakistanis, not just their support in the fight against militants.
The projects, which include the building of two hydroelectric dams, are part of a five-year $7.5bn aid package agreed by the US Congress last year.
Mrs Clinton is now in Kabul for a conference on Afghanistan's future.
"We know that there is a perception held by too many Pakistanis that America's commitment to them begins and ends with security," said Mrs Clinton, who also held talks with Pakistani President Asif Ali Zardari, while in Islamabad.
"We have not done a good enough job of connecting our partnership with concrete improvements in the lives of Pakistanis. With this dialogue, we are working to change that."
As well as two hydro-electric dams, Mrs Clinton unveiled funding for drinking water and irrigation projects, and health centres.
Pakistani Foreign Minister Shah Mehmood Qureshi said Islamabad and Washington now had more shared aims than ever.
"I can say this with confidence that the convergence of interests that we have today - whether it's democracy, women empowerment, institution-building in Pakistan, fighting and defeating extremism and terrorism and other areas - is much more than ever before," he said.
Mrs Clinton said the US expected Pakistanis to take extra steps to tackle militants.
She told the BBC she worried all the time about the possibility of an attack against the US emanating from Pakistan, and warned that such an attack would have a "devastating impact" on relations between Washington and Islamabad.
On Sunday, Mrs Clinton helped broker an important trade agreement between Afghanistan and Pakistan, which allows Afghan trucks to use a land route through Pakistan to carry goods to India.
The BBC's Lyse Doucet in Kabul says all sides know that if there is to be greater co-operation on tackling a growing Taliban insurgency, including sanctuaries in Pakistan, relations have to start improving on all fronts.
The deal was signed in Islamabad by Makhdoom Amin Fahim, Pakistan's minister for commerce, and his Afghan counterpart Dr Anwar Ul Haq Ahady.
Afghan Finance Minister Omar Zakhilwal said the deal was a signal that relations with Pakistan were improving rapidly.