Spin king Muttiah Muralitharan taking final bow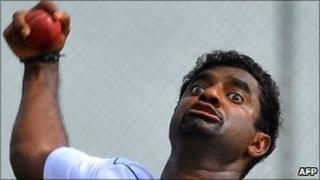 One of the greatest bowlers in the history of cricket is taking part in his final Test match for Sri Lanka, against India in the city of Galle.
Muttiah Muralitharan - "Murali", as he is affectionately known - announced his retirement from Tests earlier this month.
If he takes eight wickets against India's batting line-up, he will have captured 800 Test wickets in total.
However, there are fears that poor weather may hamper his quest.
Muralitharan's great rival, Australia's Shane Warne, who retired from Test cricket in 2007, believes the Sri Lankan's wicket tally will never be beaten.
However, for 15 years, Muralitharan has been dogged by allegations from many that his bowling action, with his arm not fully extended, is not legitimate.
Six years ago the then Australian Prime Minister, John Howard, denigrated him as "a chucker".
Muralitharan has described the controversy over his bowling action as "upsetting", despite the backing he eventually received from the international cricket authorities.
BBC Sri Lanka correspondent Charles Haviland says that as one of the few ethnic Tamils to play in the national side, the much-loved Muralitharan has also been a symbol of national unity, even during Sri Lanka's long-running ethnically driven war.
For this cricket-mad nation, our correspondent says, he is simply a Sri Lankan.
Muralitharan still plans to play for his country in the one-day and Twenty20 formats of the game.