Bangladesh bans books written by radical Islamic author
By Anbarasan Ethirajan
BBC News, Dhaka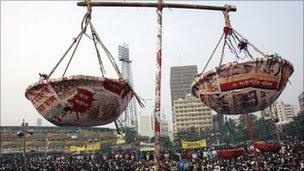 The Bangladeshi government has ordered mosques and libraries across the country to remove all books written by a controversial Islamic scholar.
The chief of the government-funded Islamic Foundation told the BBC that the books by Syed Abul Ala Maududi encouraged "militancy and terrorism".
Mr Maududi - who died in 1979 - is the founder of the Jamaat-e-Islami party.
His works are essential reading for supporters of the Jamaat-e-Islami party in the region.
Born in India, the Pakistani scholar is considered the most prominent theorist of radical Islam in modern South Asian history.
But Bangladeshi officials say Mr Maududi's writings promote radicalism and his ideological goal was to capture power in the name of Islam.
"His writings are against the peaceful ideology of Islam. So, it is not correct to keep books of Mr Maududi in mosques," Islamic Foundation Director-General Shamim Mohammad Afjal told the BBC.
The government has now ordered nearly 24,000 libraries attached to mosques to remove his books immediately. Some have already started to do so.
A senior official from Jamaat-e-Islami, ATM Azharul Islam, described the move as an attack on Islam.
"Mr Maududi's books are being published in many countries and there have been no complaints against his writings so far," he said.
The decision by the Awami League-led government is widely seen as part of its efforts to curb the activities of Jamaat-e-Islami, accused by many Bangladeshis of collaborating with the Pakistani army during the 1971 war of independence.
Five senior leaders of the party were arrested recently on charges of committing mass murder during the war. The party denies the accusations.
Related Internet Links
The BBC is not responsible for the content of external sites.