Former Sri Lanka rebels 'abused in detention'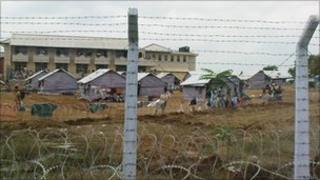 Former Tamil Tiger rebels detained in Sri Lanka say they have been ill-treated in government camps with no basic facilities.
In letters and phone calls to BBC Tamil, ex-militants say they have been "tortured and beaten" in the centres.
They accuse camp guards of being corrupt and demanding bribes before releasing detainees.
The government says all those being held in custody following the end of the war are being well cared for.
It has consistently refused to allow any kind of independent investigation into allegations of human rights abuses in the final weeks leading up to the end of the war in May 2009.
Recently President Mahinda Rajapaksa said that "not even a single civilian was killed" during the conflict.
But human rights groups say thousands were killed or injured towards the end of the fighting and in the war's immediate aftermath.
Unsanitary conditions
"Military officers often call us dogs - even if we don't shave for a day we are beaten up badly," said one of the letters, which was written by a detainee being held at a Tamil school in Vavuniya.
"The detainees are forced to bear the expenses for electricity and cleaning charges," continued the letter.
"If we say we don't have money, they threaten to transfer us to the notorious Boossa prison."
Another letter said: "We don't know whether we will be released or... shot."
The claims - mostly made in letters to BBC Tamil but sometimes in telephone interviews - are difficult to verify as there is no direct access to the camps.
It is estimated that some 10,000 Tamil Tigers either surrendered or were captured at the end of the war; many of them remain confined.
Some of the camps are located in military bases, others in schools and colleges.
The government refuses to allow journalists, aid agencies and the UN to visit these camps - but in most cases, relatives are allowed to see their loved ones.
Their accounts and the letters written by those being held all speak of unsanitary conditions and shortages of water.
The government says it is giving technical and vocational training to the detained cadres to make them more employable. Detainees say "no meaningful training" has so far been provided.
'Disappearances'
One letter written by a woman from the eastern town of Trincomalee said some young detainees had been "beaten black and blue".
"Some are hanged upside down," she wrote. "Some are made to lie down in the floor and beaten with belts and sticks. They don't take the injured to hospital."
Others accuse the authorities of providing no information on the whereabouts of their loved ones and of orchestrating "disappearances" from the detention centres.
They say that detainees taken away for questioning have not returned and no-one knows what has happened to them.
But these claims too have been strenuously denied by the government.
"I have visited Jaffna, Killinochi and Vavuniya where I met many people - including wives and relatives of the detainees," Rehabilitation Minister DEW Gunasekera told the BBC.
"No one made any complaints to me.
"Instead of writing letters to the BBC in London, ask them to write to me and I will look into it."
The minister said 3,000 people had been released from the camps in the past year and 8,000 former rebels - including 600 women and 1,300 men classified as "hardcore fighters" - remained in custody.
"Overall I would say we have been very magnanimous," added Mr Gunasekera.