Bus stop suicide bomb in Pakistan's Swat kills five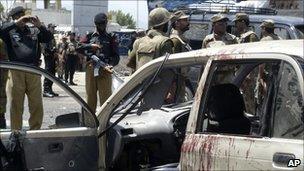 At least five people have been killed and nearly 50 injured by a suicide bomb next to a bus stop in north-west Pakistan's Swat Valley, officials say.
The attack happened in Mingora, the main town in the former tourist region overrun by the Taliban in 2007.
Police say the area where the bomb went off was crowded, so the number of casualties could rise.
The army said it had driven insurgents from Swat following a huge offensive against them last year.
Correspondents say the blast shows that militants are still active in Swat.
The bomb ripped through a busy street next to the bus terminal - police say that a passing army patrol could have been the target.
"It appears to be a suicide blast as we have found severed legs," police official Jehangir Khan told the Reuters news agency earlier.
Two of the dead were women, police officials said.
Forty-seven people were wounded in the blast, including children, hospital officials told AFP news agency.
Television footage showed volunteers carrying a body away from the scene of the blast, as others frantically pulled at the twisted car doors to rescue victims in a street strewn with burnt-out vehicles.
Mingora is 125km (80 miles) north-west of the Pakistani capital Islamabad and is the main town in Swat, a mountain valley of enormous natural beauty that was once a popular tourist destination.
For two years before the army's offensive began in April 2009, the Taliban imposed a repressive brand of Islamic law in the area, prohibiting secular girls' education and beheading opponents.
The army's offensive began in the neighbouring districts of Buner and Lower Dir, then advanced through Swat.
In the heavy fighting that followed, about two million people were displaced - the military declared the region back under army control last summer and since then officials say that efforts have begun to promote development and revive the economy.
Many displaced people have now returned to their homes in the area, but correspondents say that threats and tensions still remain.
In May a suicide bomber blew himself up at the entrance to Mingora's busy market - killing three people and wounding 12 others - and in February a similar attack killed nine people.
Related Internet Links
The BBC is not responsible for the content of external sites.