India and Pakistan foreign ministers meet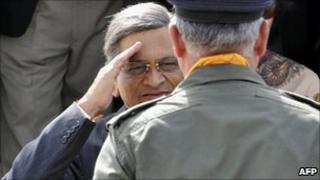 The Indian and Pakistani foreign ministers have begun talks in Islamabad in an effort to revive peace talks that froze after the 2008 Mumbai attacks.
Pakistan says all issues are on the table for the meeting between Shah Mehmood Qureshi and India's SM Krishna.
Islamabad is expected to bring up its complaint that India is diverting water from rivers that cross the border.
In February, the two nations' foreign secretaries met in Delhi. Last month, their home ministers met in Islamabad.
The BBC's Aleem Maqbool in the Pakistani capital says after the turbulent times between the two nuclear neighbours, these talks will be feted as a success, simply if they do not collapse.
The 2008 Mumbai (Bombay) attacks - which severely damaged relations between the two - are expected to be the focus of the talks.
India blamed the bloodshed - in which Islamist gunmen killed more than 160 people - on Pakistan-based militants. After initial denials, Pakistan later admitted the attacks were partly planned on its soil.
After his arrival in Islamabad, Mr Krishna said he was hopeful of "making a new beginning" in relations between the two countries.
"We will discuss all issues of national interest and concern that will contribute to restoring trust and building confidence," he said.
Mr Krishna is also due to meet Pakistani President Asif Ali Zardari and Prime Minister Yousuf Raza Gilani.