Australia Direct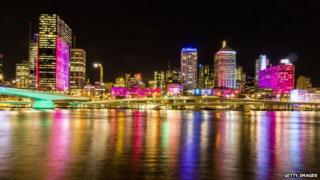 As world leaders descend on Australia's Brisbane for the G20 summit, the BBC has been getting under the skin of this vast and fascinating country.
In a special season of programming and online content, reporters and presenters will shed light on what is driving Australia's economy, its technological innovation, thriving tourism sector, sporting life and much more.
Australia Direct will run for two weeks from 8 November on BBC.com and at the following times on BBC World News.
Australia Direct
Yalda Hakim presents the BBC World News guide to Australia Direct, introducing highlights of the programmes in the season.
View: 15 November at 11.10, 18.10 AEST
The Travel Show
Rajan Datar travels across western Australia, uncovering what's behind the enduring appeal of the country for the millions of visitors it attracts each year. On his journey he travels to Perth, to see how the impact of the mining boom has transformed the city's architecture and scale, and finds out how street art is flourishing in the state capital.
He travels up north to get a taste of life in the outback herding thousands of cattle on an indigenous-owned station. And to cap it all off, Rajan gets a close encounter with an Australian icon, the saltwater crocodile.
View: 15 November at 15.30 AEST and 16 November at 17.30 AEST
Working Lives
Aaron Heslehurst is in Sydney to take a look at some of city's diverse workers, including fashion design duo Bec & Bridge, and James Agnew of Agnew Wines. He also explores how it's contributed to Australia's recent economic success story.
View: 15 November at 23.30 AEST and 16 November at 11.30, 18.30 AEST
Talking Business with Linda Yueh
Linda Yueh will be at the G20 summit in Brisbane, taking the temperature of the summit with expert guests. Talking Business with Linda Yueh offers a unique, analytical response to global business news, considering the different perspectives of every story.
View: 15 November at 11.30 AEST and 16 November at 23.30 AEST
Click
From high tech buoys, to military surveillance, to drones used to herd cattle, BBC World News's Tech Guru, Spencer Kelly, is on a mission to discover where Australia is leading the world in technological innovation.
View: 15 November at 17.30 AEST and 16 November at 15.30 AEST
Extra Time
James Magnussen, Adam Goodes and Merv Hughes are among the sporting names interviewed by Rob Bonnet for this Australian edition of Extra Time.
View: 10-14 November at 15.30, 20.30 AEST