BBC News Hangout: Your Syria Questions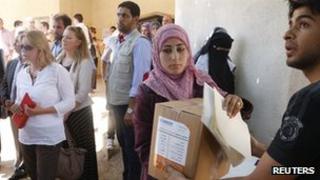 Refugee numbers continue to increase in Syria - with some 10% of the population having now fled the country, according to UN figures.
Many countries are pledging aid, with the UK spending £400m ($638.5m) - which the Foreign Office says is its largest ever response to a humanitarian crisis.
The UK's International Development Secretary Justine Greening has said that it is important Britain plays a "leading role". Ertharin Cousin is the Executive Director of the UN's World Food Programme.
Update, Wednesday 18 September 2013: Unfortunately, due to a technical problem we were unable to broadcast this Google Hangout.